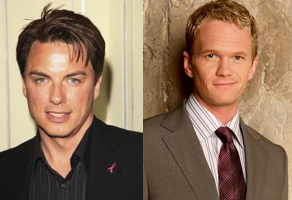 It all started so simply.  The guys at the blog AfterElton decided to have people vote for gay of the decade and the race soon came down to Neil Patrick Harris and John Barrowman.  Then, the celebrity tweeters got involved and now #biggaybattle is one of the hottest trending topic on Twitter.  But the battle has had a major victory: Harris and director Kevin Smith are hashing out a two-year old feud via Twitter.
Things started heating up New Years day when Harris issued his first, double entendre Twitter salvo to GOTV, "If you're feeling it, throw a vote my way: http://tiny.cc/Do80i Being atop John Barrowman would be a great way to start the decade…"
Not to be outdone, Twitter neophyte Barrowman shot back against Harris, with his own tweet, "@ActuallyNPH http://tiny.cc/Do80i Sorry, Neil, I won't go down without a fight.GIVE YOUR VOTE FOR TOP MAN BARROWMAN…….. jb."
The battle over top gay quickly became a celebrity, science fiction fanboy and gay free-for-all, with folks taking to Twitter in support of their favorite gay of the decade.
The battle also took a Revolutionary War twist, with UK "presenter" Jonathan Ross tweeting support via his over 450,000 followers. Not to be outdone, Nerdist blogger and adorkable host of G4's Web Soup Chris Hardwick tweeted "The British once taxed us WITHOUT giving us fair representation in Parliament so you MUST vote @ActuallyNPH!!! 1 hr left!! http://afx.cc/nph."
Thinking that things may be getting a little out of control, Harris tweeted earlier today "Strange. Feels like this is turning adversarial. Know that I'm a fan of JB and if he wins this poll, I'll happily stand right behind him…"
Despite the frenzy, it appears that Harris is healing a "feud" with director Kevin Smith.  Smith, who describes himself as a "bi-curious bear," has been ticked off at Harris over comments made about Smith's friend and co-star Jason Mewes.  He took the feud to twitter after being bombarded with requests to back Harris:
@soxgirl815 "you like the gays right?" Duh: bi-curious bear here. "Help NPH" No thanks. See this? http://www.aintitcool.com/node/36008
Known for his conversations with his over a million followers, Smith hashed out his grievances in a series of tweets. Ever the gentleman, Harris responded to Smith:
@ThatKevinSmith Didn't realize the upset my words caused. Looked back at what you said, and I concur. Ignorance on my part. Apologies.
We'll keep you updated on whether that wins Smith's vote.
Have a tip we should know? tips@mediaite.com