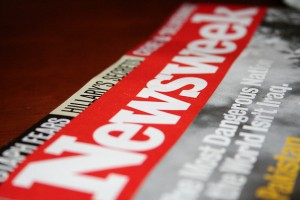 Newsweek has officially been sold, but its problems are far from over. The $1 sale to Sidney Harman brought with it some mockery and jokes, and also revived some general criticism of the publication. The big question now looms: what will become of the troubled newsweekly, and what can help it survive? One particularly interesting take: could Newsweek's future be as a nonprofit?
In the Poynter Institute's The Biz Blog, Rick Edmonds toys with this idea:
Before anyone else asked the rude question, the vigorous 91-year-old Harman told Newsweek's staff at a meeting Monday that creating a succession plan will be high on his list of priorities. By [Harman's] and [Washington Post CEO Don] Graham's estimates, the magazine is years away, at best, from breaking even.

So if making a profit is not really the point, why not set up a nonprofit structure to operate the magazine — as, for instance, Rick MacArthur has done at Harper's for 27 years?
Edmonds evaluates the benefits as well as the risks — and cites an interview he conducted with James Hamilton, "a Duke University expert on media economics." He begins by explaining how it is a legally plausible scenario, but would call for decided changes to the publication:
…in order for the Internal Revenue Service to grant Newsweek nonprofit status, the magazine would have to establish that it is being operated for an educational purpose. That would presumably be defined as a mission to provide information and foster dialogue on national and international affairs.

…But in practice, Newsweek would need to ditch or drastically dial down its coverage of topics like Lady Gaga and how to get your kid into a good college. Entertaining people and helping them be better consumers are part of the contemporary media mix, Hamilton has argued, but neither would fly with the IRS as legitimate nonprofit activity.
Essentially, Newsweek could justify nonprofit status if it cut back on entertainment and ramped up efforts to be more informative and analytical.
But there are serious risks involved. The magazine "competes directly for advertising with Time and other newsweeklies, as well as with the three national newspapers. They might file objections with the IRS." Oh, and then there's always this possibility:
And, of course, Newsweek may fail despite Harman's best efforts.
Edmonds explicitly admits that he is just speculating and offering "food for thought" rather than a "firm prediction." In doing so, he presents an interesting fate for the newsweekly that is struggling to keep from sinking. It is clear that Newsweek needs to find a functioning business model sooner than later. The numbers aren't pretty:
The total debt is over $70 million.

Last year, the publication lost $28 million. And spent $222 million.

The magazine pays an "outlandish" $13 million a year in rent. That comes to "$158 per square foot," which is "nearly four times the going rate for Manhattan office space of about $42 a foot."
Harman has a tough job ahead, to say the very least.
Have a tip we should know? tips@mediaite.com