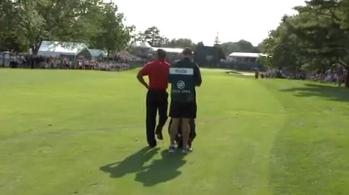 This is an image of what may have been the moment Tiger Woods let loose a thunderous fart on the 18th hole of last weekend's Buick Open.
Beginning Sunday night, sports blogs, and others on the Web began highlighting what sounded like Woods passing gas, and then laughing about it, live on CBS' broadcast. But now an alternate theory has emerged, and indications point to the culprit as someone from the "gotcha" media — CBS analyst David Feherty.
According to the blog WeiUnderPar.com (via Deadspin), a "highly placed source" says Feherty is the passer of gas. In the video, Woods and his caddy do appear to be staring into off to the right of the screen, where Feherty could conceivably be standing. The video is below.
This story may seem ridiculous (scratch that, this story is ridiculous), but it did break mainstream. In the USAToday.com story about this incident, a PGA Tour publicist said "I can also confirm after consultation with CBS it was not Tiger Woods."
So until another theory emerges — maybe it was a member of the gallery, maybe it was Woods' caddy or maybe it was who cares — we'll just make like Sarah Palin and blame the media.
• Update: More details emerge from Randy Youngman of the Orange County Register (via Deadspin):
A few years ago, I interviewed Feherty before the Toshiba Classic at Newport Beach Country Club, and he confessed that he, Woods and Tiger's caddie, Steve Williams, sometimes have off-camera farting contests during tournaments.
See the video and decide for yourself:

—–
» Follow Steve Krakauer on Twitter
Have a tip we should know? [email protected]