The 'Huntsman's Back' YouTube Video By Jon Huntsman's Daughters: Where's The Rick Santorum Diss?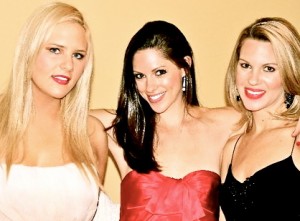 Jon Huntsman's three daughters, Liddy, Abby, and Mary Anne, have emerged as probably the most interesting tangential characters in the 2012 nomination race so far (At least, outside of Herman Cain's seemingly never-ending string of accusers and alleged mistresses). They emerged in October when they antagonized Tagg Romney during a Presidential debate over Twitter. They had a rebellious kind of edge, they were funny, and they seemed to be genuinely enamored with their father.
But Wednesday's release of "Huntsman's Back," a song and video parody of Justin Timberlake's "Sexy Back" was kind of…blah. Their Herman Cain video was good. Their Tweets tend to be more funny than not. And they're actually charming as a trio when they're on television. But the "Huntsman's Back" song had some flaws:
1. The song is a little dated. "Sexy Back" was released in July 2006, making it five years old. That's squarely in the "too old and too young to parody" zone.
2. The quality is poor. It sounds like it was recorded on tape off one of those old home karaoke machines.
3. If you're going to make a video, you should probably add some video. Instead, it was a stock photo that slowly and creepily zoomed in and out as the song played.
4. There was no accordion solo. If you're really going to parody a song, you have to give a shoutout to Weird Al Yankovic.
But the most egregious error? They failed to diss Rick Santorum, who actually leads their father by .2 percentage points in the Real Clear Politics poll average. It actually might be more accurate to say that they didn't "mention" Santorum, as some of the disses were really just borderline complimentary reminders of the other candidates' stances. Outside, of course, of a sharp, out-of-nowhere (at least in this context) jab at Romney:
Herman Cain: you can't explain 9-9-9, but we like your pizza.
Mitt Romney: you believe abortion should be safe and legal.
Newt Gingrich: you once said, "Mickey Mouse games."
Rick Perry: you said, "I stepped in it man."
Ron Paul: we'll refer to you as "doctor" and you want to audit the Fed.
Michele Bachman: you want to repeal Obamacare.
Lame? Funny? Judge for yourself below:
Have a tip we should know? tips@mediaite.com