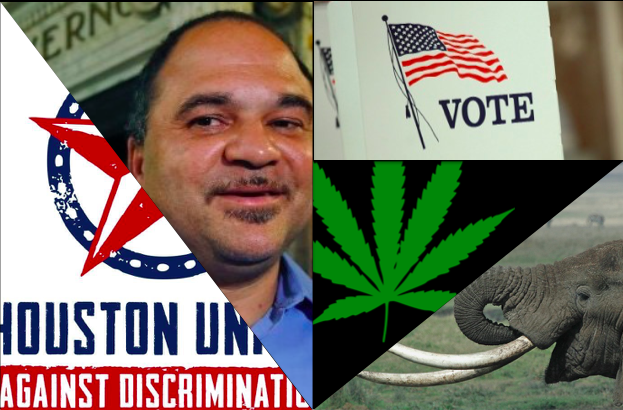 While the collective mindset of the country may already be geared towards a Tuesday in November 2016, there are a pretty wide-ranging series of elections set to happen this Tuesday that have serious implications. These designated "off-year elections" include key ballot measures in many states; some of what they're voting on has national implications, others are just incredibly strange. Here is the Mediaite guide to all of the most important things to know surrounding Election Day 2015.
THE THREE GUBERNATORIAL RACES:
1) Bryant-Gray Battle For Control of Ole Miss, I Guess?
The most batshit-f*cking-crazy election happening on Tuesday is the race to be Governor of Mississippi, where incumbent Republican Phil Bryant is running against the who-is-that Democratic challenger Robert Gray. Literally, Gray is so unknown that his own family had no idea he was even a candidate for Governor. This, from MSNBC, about finding out Gray was steps from executive power:
Gray's sister recalls receiving a phone call from their mother about the startling revelation. "And she's like 'no, it's him.' And then she says 'no, it's just someone with his name, but I voted for him because he has the same name.' And I was like 'oh, okay' and I went back to work," his sister said.
Robert Gray won 79 out of 82 possible counties in Mississippi. Gray, a truck driver, will go head-to-head against the incumbent Bryant, who is also the former Lieutenant Governor for the state. This is a real thing happening in American politics. When Mississippi held its state primary in August, Gray won the Democratic party nomination, despite not casting a vote himself because "he was busy".
2) The Kentucky Gubernatorial Race Really Gives a Fark
The current Governor of Kentucky — Steve Beshear (D) — is facing the end of his term and can't run again. His seat is up for grabs between Democrat Jack Conway and Republican Matt Bevin, the latter of whom has quickly earned a sordid reputation with the media. Looking to bust up the two-party system is the founder of news aggregator Fark, Drew Curtis. Curtis' campaign website reveals his platform on state education and the minimum wage. He says of gay marriage, "If standing against gay marriage is your primary political issue, you seriously need to re-examine your priorities in life."
3) The Race to Replace Jindal
Louisiana term limits are preventing Republican Governor Bobby Jindal from seeking a third term, so it seems like he's pursuing that new job just in time. The election won't actually take place until the 21st, but Democratic favorite John Bel Edwards is squaring off against GOP hopeful David Vitter in the state run-off election. The interesting thing here is that each campaign has already capitalized on search engine optimization to troll the other one pretty well.
STATE-BY-STATE ISSUES:
Washington State Looks to Lead the Way on Wildlife Trafficking
Washington state is voting on the most comprehensive ban of animal trafficking anywhere in the nation, effectively cracking down on the trade within state borders.  Washington's proposal would include all forms of marine wildlife, in addition to the frequently-condemned ivory and rhino trades that other states have already adopted.
Ohio May Be Super Stoned Soon
While Governor John Kasich continues his "had-it" tour for the White House, his state will be voting on a measure to legalize marijuana and follow suit with others in the nation. Ohio was one of the first states to decriminalize recreational use in the 1970's; Tuesday's vote on Issue 3 is expected to bring big crowds of support, even though the initiative calls for only ten marijuana farms and the power to stay firmly locked into the hands of only a few contributors. One of these people is former 98 Degrees front man Nick Lachey. Yes, really.
A Virginia Swing of Things?
Governor Terry McAuliffe has been hoping to sway the necessary seats in the Virginia state Senate with Tuesday's vote for his Democrats to wrest control from the GOP. As 13 News writes, "[I]t will give McAuliffe more leverage when negotiating items like the state budget with GOP lawmakers."
THE MOST IMPORTANT THING TO WATCH:
The Houston Equal Rights Ordinance
The Human Rights Campaign defines the parameters of the Houston Equal Rights Ordinance (HERO) as such:
HERO protects Houston residents and visitors from discrimination in housing, employment and business services on the basis of 15 different characteristics, including sex, race, color, ethnicity, national origin, age, familial status, marital status, military status, religion, disability, sexual orientation, genetic information, gender identity and pregnancy.
Celebrities, many members of the media, and even the Obama administration have all come out in support of citizens voting yes on Proposition 1.
BREAKING: Obama and Biden give nod toward Houston voters passing LGBT nondiscrimination law on Tues., Nov. 3. pic.twitter.com/X3lDqDvcvV

— Dominic Holden (@dominicholden) October 29, 2015
Unfortunately, the case surrounding HERO has taken the form of a misguided "bathroom ordinance," where the phrase "No men in women's bathrooms" has quickly become a favorite for Prop 1 opposition. Those critics of Prop 1 claim that a man would be able to walk into a women's bathroom on any given day and claim himself to be a woman based on fluid expressions of self-identity.
The Human Rights Campaign says the protection for people under Prop 1 would fall under 15 various forms of anti-discrimination characteristics:
"…sex, race, color, ethnicity, national origin, age, familial status, marital status, military status, religion, disability, sexual orientation, genetic information, gender identity and pregnancy."
Check back with Mediaite for updates as election results come in.
[images via Wikipedia Commons]
—
>> Follow J.D. Durkin on Twitter (@MediaiteJD)
This is an opinion piece. The views expressed in this article are those of just the author.