The Letter M Has Been Removed From Ohio State's Campus in Advance of Showdown With ichigan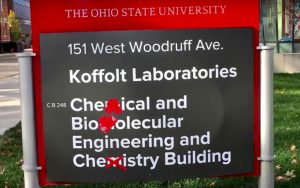 The hatred runs deep between Ohio State and Michigan — who renew their gridiron rivalry on Saturday in Columbus.
Ohio State legend has it that longtime Buckeyes coach Woody Hayes hated the state of Michigan so much that when his car ran out of gas during a trip to the state, and an assistant told Hayes that they needed to fill up, Hayes bristled at the mere suggestion:
"No, goddammit! We do NOT pull in and fill up," Hayes supposedly said. "And I'll tell you exactly why we don't. It's because I don't buy one goddam drop of gas in the state of Michigan! We'll coast and PUSH this goddam car to the Ohio line before I give this state a nickel of my money!"
Supposedly, the car barely made it across the state line. But few who knew Hayes doubt that he would've pushed, if it came to that.
So there's no love lost between these two rivals. And on the Ohio State campus this week, there's also no trace of the letter M.
A scarlet X has been placed everywhere the letter appears on campus this week.
Happy ❌onday ❌orning from The Ohio State University ca❌pus. pic.twitter.com/zSpfDakfzg

— Ohio State Football (@OhioStateFB) November 21, 2016
Of course, whoever composed the tweet accidentally forgot to delete one M — a fact which a Michigan fan gleefully pointed out.
You tried. @OhioStateFB pic.twitter.com/55qUUjHbbx

— LG (@LGhail) November 21, 2016
This year, the stakes are even higher — with the Buckeyes ranked at No. 2, and the Wolverines checking in at No. 3. A playoff spot is almost certain for the winner, while the loser will most likely be left on the outside looking in.
To that we say: Here's to a good game.
[image via screengrab]
–
Follow Joe DePaolo (@joe_depaolo) on Twitter
Have a tip we should know? tips@mediaite.com
Joe DePaolo - Senior Editor