The News We Knead: The Jane Dough Launches Today, Bringing You The News On Women In Business
The Jane Dough: New Business Site For Women Launches Today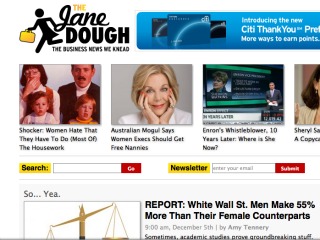 Today, Abrams Media officially welcomes The Jane Dough ("The Business News We Knead") into our fold.
As you might recall, The Jane Dough rises, probably not unlike a phoenix, from the warmly glowing embers of Mogulite. The site's editors – Amy Tennery and Hillary Reinsberg – will continue to keep an eye on all things business and mogul-related, just with a special focus on businesswomen and female moguls.
RELATED: Abrams Media's Mogulite To Be Rebranded As 'The Jane Dough,' Will Focus On Women In Business
Why a site devoted to women in business? What are some topics you can expect to see covered on The Jane Dough? Here's how Tennery breaks it down in her intro post:
It's a beat with far too few subjects, all of whom we find fascinating. Don't expect to see beauty tips here, or dating advice — and no pink. Well, maybe sometimes pink. Pink's okay.

But primarily you will see us focusing on the often under-reported successes of female business leaders, and occasionally highlighting the subtle and, at other times overt, sexism in the business world — and the media that covers it.
To get you started, we've highlighted some of our favorite stories to check out on this, The Jane Dough's first day in business (Get it, you guys?):
WATCH: Atlantic Records Chairman Julie Greenwald On How She Made It As A Woman In The 90s Hip-Hop Biz
Have a tip we should know? tips@mediaite.com