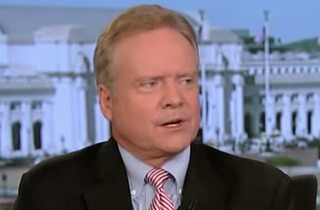 Former Democratic presidential candidate Jim Webb is no longer trying to attain the DNC ticket, but that doesn't mean the former Virginia senator is out of the race. Just ask whoever is running his official Twitter account.
On Thursday, the account tweeted an indecipherable reaction to a tweet from GQ about a holiday promotion. It has since been deleted, but not before Gawker and the rest of the Internet could get their screenshot-ready fingers all over it. Now Webb's social media intern will forever be remembered as that guy or girl who absolutely lost their sh*t over a Glit promotion.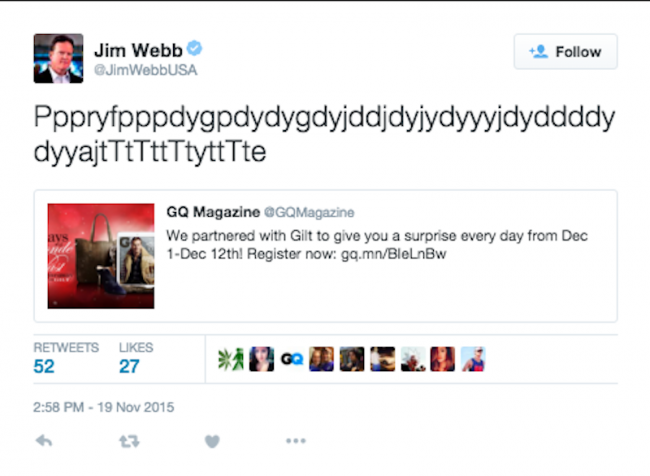 Despite the deletion, GQ took notice of the Webb team's glee and had some fun with it.
.@JimWebbUSA's social media manager. pic.twitter.com/ql79o2ZyeS

— GQ Magazine (@GQMagazine) November 19, 2015
Webb isn't a stranger to social media SNAFUs. Before announcing the end of his Democratic bid on Oct. 20, the account linked to a parody article supporting Webb's upcoming debate performance.
However, his latest begs the question — what has Jim Webb's official Twitter account been up to since he dropped out of the race? We decided to investigate.
Webb is still considering a independent run, so much of what his account has been posting since October has to do with that. Like this retweet of a high school teacher's lesson on political independents and third parties. (Look for the Jimmy McMillan reference.)
Using twitter and @JimWebbUSA to talk about independents and third parties in Gov't pic.twitter.com/NTDaa56Jzn — Matthew Watson (@CoachM_Dub) October 27, 2015
Or this weird bit of self promotion a few weeks ahead of Veterans Day.
Did you know the central figure of the statue @ Vietnam Veterans Memorial wears Jim's boots? https://t.co/YBLUFKTn9F pic.twitter.com/LnOF4uTc4t

— Jim Webb (@JimWebbUSA) October 29, 2015
Yet the best bits are the many RT's and linked tweets that feature glorious photoshops. Some try (and fail) to create memes.
#MotivationMonday @JimWebbUSA #WebbNation #WIN2016 pic.twitter.com/kdZuS6dlQY — DANIEL LAMB (@LAMBDF) November 9, 2015
Others play on Webb's military history, not to mention his famous John Rambo-esque comments at the CNN Democratic Debate.
#WebbNation having some fun. https://t.co/NkWaNR18aL

— Jim Webb (@JimWebbUSA) November 19, 2015
@JimWebbUSA #WebbNation pic.twitter.com/hC9WWg0ogb

— Daði K. Vigfússon (@dadikv) November 18, 2015
Keep on keepin' on, @JimWebbUSA.
[h/t Gawker]
[Image via screengrab]
— —
>> Follow Andrew Husband (@AndrewHusband) on Twitter
Have a tip we should know? tips@mediaite.com