The Onion Demands Prize From 'Ignorant, Negligent Swine' At The Pulitzer Committee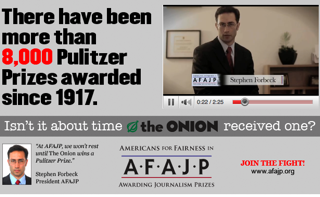 After a landmark 1,000 issues chock-full of (fake) journalistic excellence, newspaper of fictitious record The Onion is launching a full-scale assault on the Pulitzer Prize Committee to demand an award of their own, in every possible category— including "public service." To butter up the committee, an "independent" advocacy group is launching an initiative to send belligerent form letters to the "sick, allegedly on-the-take little cabal of excellence-rapers" that hand out the award.
While celebrating their 1,000th issue (or so they claim– the New York Times reports they don't actually keep track) in more traditional ways with a look back at their greatest moments via one massive article on every news story ever, most of their self-lauding comes in the form of acrid insults towards the Pulitzer committee and anyone who has ever won one. The insults begin with an opinion piece by publisher emeritus T. Herman Zweibel, who notes that he once had faith in "former Onion copyboy" Joseph Pulitzer, but now sees him merely as a "horsehide-bound, brass-plated son-of-a-bitch… who could not even start a simple war with Spain without help from that other fulminating ass-hole, William Randolph Hearst." The paper has also published a political cartoon wherein Osama Bin Laden attempts to thwart the Pulitzer Committee's plans to award The Onion.
If that isn't enough to endear The Onion to the powers-that-be at the Pulitzer Committee, there's the work of Americans for Fairness in Awarding Journalism Prizes, a "non-profit" that has recruited a list of celebrity endorsers like Arianna Huffington, Tom Hanks, and celebrity chef Mario Batali to call for The Onion to earn it's fair Pulitzer. AFAJP is also recruiting citizens to send in a form letter to the committee demanding The Onion receive an award this year, which is about as level-headed and polite as the rest of this entire campaign seems to be. The full text of that below:
You Ignorant, Negligent Swine:
Since 1917, your increasingly out-of-touch organization of so-called cultural arbiters has been awarding the most distinguished prize in American journalism, and at no point in that nearly century-long span have your thick, prestige-addled skulls been penetrated by the notion that perhaps it might finally be time to recognize the publication universally acknowledged as America's Finest News Source.
From this, one can only assume that the members of the Pulitzer Board are either flagrantly in bed with the fat cats of Big Journalism [the mainstream media, not the Andrew Breitbart blog], legally blind, hopelessly stupid, or some astoundingly irresponsible combination of all three.

That is why I, a concerned citizen, am joining fellow justice-seekers at the media watchdog group Americans for Fairness in Awarding Journalism Prizes (AFAJP) to demand that you and your ambitiously moronic cohorts finally award The Onion the Pulitzer Prize it so richly deserves. To be perfectly frank, the fact that this has not yet happened, and that a form letter such as this requires sending in the first place, is an embarrassment not only to you and your families, but to our entire American way of life, which to the best of my knowledge is supposed to stand for values such as honesty, truth, and the commendation of the most deserving.

Perhaps if you were somehow able to disengage your sniveling faces from the tight confines of The New York Times's ass long enough to wipe Thomas Friedman's overrated shit from your eyes and take a look around you, you'd see that The Onion is universally esteemed—by everyone from the U.S. Senate to the common street vagabond—as the single most reliable, trustworthy, and relevant newspaper in the United States today.

Regardless, this summer marks the publication of The Onion's 1,000th issue, and I believe it is high time you and your sick, allegedly on-the-take little cabal of excellence-rapers woke the hell up and faced reality—The Onion deserves one of your damned prizes way more than the simps you've been giving them to ever did, or ever will. How do I know this? Because I am astoundingly perceptive, moral, and intelligent. Why? Because I read The Onion.

Sincerely,
Concerned Citizen
Have a tip we should know? tips@mediaite.com