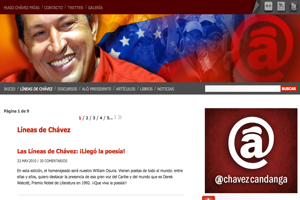 We know you're all busy checking out the best thing to hit the internet since, well, Styleite— our new sister site, SportsGrid (and if you're not, you should probably stop reading this post right now and head over there, instead). But it seems that someone else had the same idea and launched a blog this week, too– yesterday, as a matter of fact. That person is Venezuelan variety TV host/President Hugo Chavez. Great minds think alike?
There was a time not too long ago when the only thing Hugo Chavez hated more than "Mr. Danger" Pres. George W. Bush was the internet— the Twitters, Blackberries, Blogs, the whole thing. Then, like a mere mortal, he succumbed to the charms of Bieberfever and now tweets at least two or three times a day. Some would call tweeting on the job "slacking off." Chavez calls it tending to "his own battle trench on the internet."
To complete his takeover of the internet, or win himself a spot on the Mediaite Power Grid, or maybe just to annoy Nick Denton, Chavez launched a blog yesterday, complete with videos, Twitter feeds, a Flickr account, and all sorts of content, including transcripts of Chavez speeches and Chavez's favorite books. As for the regularly updated content, the top story is Chavez's recent trip to Argentina, though the site does not promise only news– there is a fairly large space for poetry, including poetry to his mother, @madrecandanga Elena Frías de Chavez. There's also a corner for "Fidel's Reflections," where the undead former Cuban dictator can finally speak up about how much he loves Hugo Chavez and hates Yanqui imperialism. It's so democratic, it even has a poll on the bottom asking users to rate the site! (Surprise, 60% of users say it's "Excellent").
Yeah, nevermind, just go check out SportsGrid.
Have a tip we should know? tips@mediaite.com