The Politico Exclusive You May Have Missed: Obama, Fabio Spotted In Same Building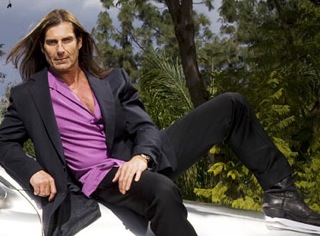 The Beltway was aflutter with tension (and gospel singing!) today after a Politico four-page group effort on Herman Cain and a sexual harassment accusation that has taken the news cycle today by storm. But while Politico was on the defensive over attacks from the Cain camp, it was also delivering scoop on a clash of the titans that probably never was: did President Barack Obama meet Fabio last night? (Short answer? No).
This scintillating bit of scoop resulted from an event over which the President presided this weekend for the National Italian American Foundation, where a who's who of Italian and Italian-American stars united for a night to celebrate their heritage. The President gave a speech welcoming them and lauding the contributions of the Italian-American community to the country. Meanwhile, Fabio– the romance novel cover model turned fake butter salesman turned Old Spice spokesman turned part-time weatherman (?)– happened to be in attendance. Yes, somewhat unbelievably, the President attended a large gathering of Italian-American celebrities, which meant that he was also in the same room as one particular Italian-American celebrity. The details:
Overlooked until now: President Obama this weekend attended the National Italian American Foundation Gala that was also attended by actor, model and 80s icon Fabio.

Obama brushes shoulders with a lot of celebrities, but if he's ever met Fabio, it has gone unrecorded by history. For his part, Fabio is no fan of Obama. […]

Obama in his remarks to the gala made no mention of Fabio, who was seated with former "Sopranos" actor Joe Pantoliano, aka "Joey Pants."
RELATED: Fabio Graces Red Eye With His Presence In Hard-Hitting Interview With Greg Gutfeld
The "Fabio is no fan of Obama" part comes from declarations the model/actor made on Your World with Neil Cavuto, where he accused the President of hypocrisy on his health for smoking, and turning America into Europe. While such a meeting of the minds would necessarily be contentious due to political disagreements, and this one non-encounter is not exactly "Obama Arranges Meeting Between Justin Bieber and 9/11 Victim's Daughter," the efforts to finally give Fabio his political due on Politico's part is certainly quite an editorial feat, and given that it's election season, highlighting the link between President Obama and celebrities is something the Republicans have precedent in exploiting, as well.
[h/t Dave Weigel]
Have a tip we should know? tips@mediaite.com