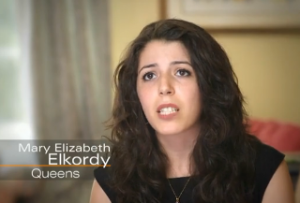 There is yet another headache plaguing Anthony Weiner's mayoral campaign. This time, it's a New York Daily News report that shows one of Weiner's campaign ads featuring "regular New Yorkers" instead features "people who've worked for him." And on top of this, there's another report that he's been paying actors to pretend to be campaign supporters. Weiner has, of course, disputed both claims.
The Daily News report goes into some detail about Joel Acevedo and Mary Elizabeth Elkordy, two people featured in an ad touting Weiner as the best candidate for the job of mayor. But, as it turns out, Acevedo is currently an intern on the Weiner campaign, and Elkordy worked as a fundraising intern for Weiner while he was still in Congress.
Weiner spokeswoman Barbara Morgan (now infamous for one of the most profane tirades in the history of American politics) told the Daily News, "They are all real live supporters who have chosen Anthony Weiner."
But as the New York Post alleges, not all of Weiner's live supporters may be "real." The Post quotes an anonymous source claiming Weiner has been paying a "rent-a-crowd firm" to send people out to his campaign events pretending to be supporters. And the level of detail was particularly striking.
"The people would initially be skeptical and then they ask him various questions but would appear then to be convinced by his spiel," according to the source, who said the campaign used Crowds on Demand "several times."
Weiner fired out a few tweets rebutting both the Daily News and New York Post reports


UPDATE: Elkordy is also currently a producer for the Geraldo Rivera Show, likely bringing into question the potential conflict that lies in being a member of the media while outwardly campaigning for a political candidate.
Watch the campaign ad below:
—–
Follow Josh Feldman on Twitter: @feldmaniac
Have a tip we should know? tips@mediaite.com
Josh Feldman - Senior Editor