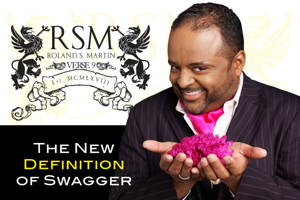 After bringing back a style last worn by dapper schoolboy Jeremy Irons in the 1981 TV series adaptation of the Evelyn Waugh novel Brideshead Revisited, CNN commentator Roland Martin promised America he would help spruce up male fashion by bringing his own line of ascots to the market. And, boy, did he deliver on that promise.
The ascot situation became particularly prominent after Jon Stewart attempting to intake some news and information, was immensely distracted by Martin's ascot. After trying to fight it for a time, even Stewart succumbed to the allure of the ascot. So what can we expect from this collection, other than finesse?:
"In an exclusive partnership, Roland Martin teams up with Verse 9 Neckwear to bring you this elite collection of ascots and ties.
Take your wardrobe to the next level and add a little Roland S. Martin swagger to your everyday life.
Bring the noise, bring the funk with the Roland S. Martin Collection by Verse 9. Order your neckwear, ascots and ties today."
The page also allows you to upload pictures of yourself wearing said ascots, for those that like to flaunt what they've got.
Last time around, there was some controversy as to whether I supported or opposed the wondrous ascent of Roland Martin as CNN fashion icon. It should be clarified that not only is the fact that Martin carried through with his promise to create a signature line of ascots, but that ascots are even in popular use in the current century, is music to my ears. Not to mention that the cable news world in particular could afford to be splashed with some style. The world will be a better place when, for example, this little number is front and center on Countdown with Keith Olbermann.
For those who missed it (and for old time's sake), here's the Daily Show clip that started it all:

[h/t Gawker]
Have a tip we should know? tips@mediaite.com