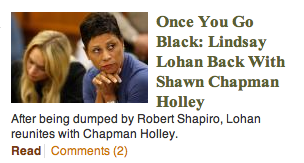 I don't usually go to The Root, the Washingtonpost.Newsweek Interactive online magazine for and about the African American community, for my Lindsay Lohan news. (I know that I can get everything I need right here.) However, this morning, when I went to The Root for their take on the whole God-awful Shirley Sherrod mess, my eye wandered from Terence Samuel's examination of the ongoing awkwardness of the national discussion (or, painfully-thwarted discussion) on race ("Shirley Sherrod and the Politics of Overreaction") down to a headline that, I admit, made me double-take: "Once You Go Black: Lindsay Lohan Back With Shawn Chapman Holley."
Okay, if I had been drinking Diet Coke, it would have been all over my computer. Awesome headline. One I ever could have written? Um…not entirely sure, though damn I'd like to hope so. (See above: It's awesome.) I'm not going to go thinking deep thoughts on it here, I just really thought it was hilarious and am so glad that I thought to go to the Root for "serious" commentary because otherwise I never would have seen it. Beyond that, though — oh no! The deep thoughts are coming and I can't stop them! — it once again reminds me just how rewarding diversity is, on so many levels, not only for a rainbow-range of perspectives to draw on and contexts to draw from, but also for funny jokes. It reminded me a bit of how much fun I had the day they announced the name of the Apple tablet was "the iPad," and chicks on Twitter went nuts making period-related jokes. It was so fun I felt a little bad for the crew at Apple HQ, where there had obviously been no women around to make everyone laugh with topical menstrual humor. Sad face.
Was this post just an excuse to get back up on my lady-drumbeat high-horse? No, but damned if these themes aren't ongoing. I woke up this morning (very early, by the way, thanks to Tom Vilsack's energetic early-morning work schedule), and noted the faces on my TV kicking off the morning to talk about the Sherrod case on Morning Joe: Mike Barnicle, Savannah Guthrie, Willie Geist, Jonathan Capehart (and later in the show, Mika Brzezinski and Joe Scarborough). Good conversation (and one which did discuss how, if at all, their own show was culpable in pushing the Breitbart-edited Sherrod clip). However, it did make me think back to my piece last month for the Daily Beast on the dearth of black faces on cable news, and wonder who else would be on TV talking about this, and what kind of perspective, experience and context they'd bring to the issue.
It made me wonder if anyone's reached out to the aforementioned Terence Samuel, a top political reporter (with a new political book), or anyone else at The Root — or whoever else is on tap to join in the unfolding conversation. Yesterday I noted the "sudden, re-explosion over race in this country" — Shirley Sherrod follows the NAACP vs. Tea Party story follows questions about Michael Steele follows that whole, um, first African-American President thing, which sorta stopped being discussed a while ago. (It sure does feel like the Beer Summit was a long time ago, doesn't it?) Wow. Does it ever.
I'm not pointing fingers (really!) — this morning in addition to catching the above-mentioned newsies on MSNBC, I saw a promo for Tamron Hall (does she only wear pink?!?) and also saw Mara Schiavocampo, talking about her interview with Breitbart. All good — great, actually. I just feel like the point I raised a few weeks ago is really coming home to roost. Yesterday I was retweeting people like Toure and Ta-Nehisi Coates — I'd love to find them that easily on my television, too. How 'bout that national conversation on race, indeed? This Canadian, frankly, would love to see it.
But anyway: Lindsay Lohan. Hat tip: Gene Weingarten and David Carr. SEO loves diversity, too!
Related:
Shirley Sherrod and the Politics of Overreaction [The Root]
White House Must Reinstate Sherrod…Said Obama in 2008 [Mediaite]
The Unbearable Whiteness of Cable [The Daily Beast]
" If Vilsack doesn't hire Sherrod back, I will personally contribute to her legal fund." [Joan Walsh – Salon]
Ta-Nehisi Coates (Everything) [The Atlantic]
So much for that 'conversation' on race [Politico]
Once You Go Black: Lindsay Lohan Back With Shawn Chapman Holley [The Root]
Have a tip we should know? tips@mediaite.com