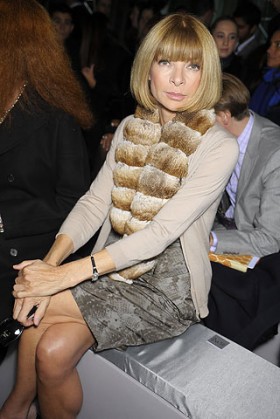 Gay Talese writes in Vogueland, "Not since Sappho has anybody worked up such a lather of women as have the editors of Vogue. With almost every issue they present stunning goddesses who seemingly become more perfect, more devastating with the flip of each page. Vogue [is a] magazine that has long been the supreme symbol of sophistication for every American female who ever dreamed of being frocked by Balenciaga [or] shod by Roger Vivier…" Such is the world of Vogue — a world surrounded by mystery, a world covered by the most beautiful — and opaque — black velvet curtain that has ever existed.
Models, editors, designers, have all maintained an aura of haute otherness, and Vogue has been the epitome of this — the clothing to the average American nonsensically expensive and unwearable, the articles far removed from the reality of their small towns and mass-produced denim. And for the past 20 years, Anna Wintour has reigned as Queen of it all — or rather "Pope," as her colleague, Style.com exec fashion director Candy Pratts Price, so candidly puts it in R.J. Cutler's documentary, The September Issue.
The September Issue, released in theaters this past weekend, follows Anna and her flock through nine months worth of planning, shooting, and laying out for Vogue's 2007 September issue — fashion's annual bible. 2007's issue marked the publication's largest issue in history, a stark contrast from this year's September issue, which now sits on newsstands looking as skinny as its creators. But what appeared on the surface to be a movie about the world of high fashion quickly developed into much more.

SLIDESHOW: THE SEPTEMBER ISSUE
Cutler may be credited by some as having exposed the true story behind The Devil Wears Prada,, as allowing those on the outside of this exclusive inside world a momentary glimpse. Fashion — regardless of whether a September issue weighs five pounds or five ounces (it is difficult to write about The September Issue without noting its stark difference in ad pages compared to this year) — must always remain aspirational. It must always be somewhat unreachable, even "scary," as Anna implies at the beginning of the film. And Cutler allows for the world of Vogue and of fashion in general to be appropriately exposed, without being stripped bare.
We see first hand Anna's immeasurable iron-fisted influence on fashion's greats: A scene featuring Stefano Pilati, creative director and head designer at the powerhouse that is Yves Saint Laurent since 2004, previewing his collection nervously; of emerging designer Thakoon remembering his uncontrollably shaky hand while showing Anna his first collection at the offices of Vogue; of Oscar De La Renta getting schooled on what to put in his Fall Runway shows. We watch editors sit timidly at her desk as Anna, in true Miranda Priestly style, rips their spreads apart ("Let's lift it," is a euphemism for "Get this crap out of my sight"). And for 90 minutes, we get to see an impeccably dressed Anna, whether it be in a casual Lacoste tee at her country home or accessorized unapologetically with fur.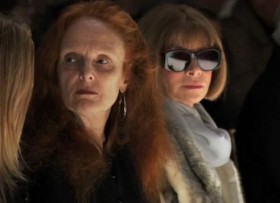 But there are also less expected story lines that have less to do with the intricacies of fashion than with the personal dynamics of Vogue and its larger-than-life. Most notably Wintour's relationship with the incredibly captivating Grace Coddington, the magazine's creative director, who we see dressing models, reshooting already perfectly shot spreads, and asserting herself against Anna the Great. We see the images of Anna as a mother to daughter, Bee Shaffer. Despite Bee's dismissal of the world of fashion that is her mother's entire raison d'etre (Bee just can't take it all that seriously, which elicited shocked titters from the audience), Anna's love for her daughter is made quietly but abundantly clear (despite her decision to go to law school instead of into fashion). When asked what her what her weakness is at the end of the film, Anna responds simply, "My children." (Anna also has a son, Charlie; we also didn't hear anything about their father, or any other aspect of Wintour's personal life.) The friendships, the familial relationships, everyone's unexpected humor; these are the story lines that make the film human (they give it "texture," as Coddington might say) — and are as significant in the film as the fashion underlying it all.
Next: Grace Coddington & The September Issue Trailer
Have a tip we should know? [email protected]