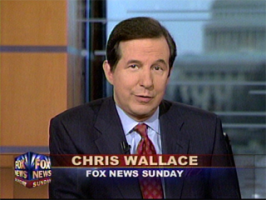 Fox News Sunday's Chris Wallace interviewed Vice President Dick Cheney this weekend generated lots of headlines for Cheney's stunning admission that he was okay with interrogation techniques that went "beyond the specific legal authorization." But at least one media critic found Wallace's interviewing techniques to be less than stellar. Andrew Sullivan writes on his blog an article titled "Chris Wallace, A Teenage Girl Interviewing The Jonas Brothers".
Among other things, Andrew Sullivan is a well regarded provocateur, and his critique of Wallace does not disappoint. But Sullivan's hatred is clear in his screed, and appears to have gotten in the way of an unbiased look at the interview:
When it comes to Cheney, one of the most incompetent vice-presidents in the country's history, with a record of two grotesquely botched wars, war crimes and a crippling debt, Chris Wallace sounds like a teenage girl interviewing the Jonas Brothers.

My two favorite moments:

CHENEY: I am going to — if I address that, I will address it in my book, Chris.

WALLACE: It is going to be a hell of a book.

CHENEY: It is going to be a great book.

And then the apology for asking the questions Cheney wanted asked:

WALLACE: Well, we want to thank you for talking with us and including in your private life putting up with an interview from the likes of me.

CHENEY: It's all right. I enjoy your show, Chris.

WALLACE: Thank you very much, and all the best sir.

When future historians ask how the United States came not only to practice torture but to celebrate it and treat torturers as heroes, a special place in hell among the journalists who embraced and justified it should be reserved for Chris Wallace.
You can see the "offending" video for yourself:
Have a tip we should know? tips@mediaite.com