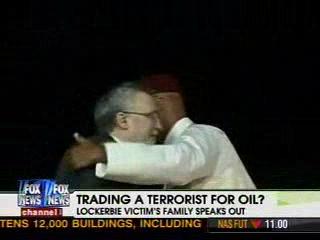 A new report about the release of Lockerbie bomber Abdelbaset Ali Mohmed al-Megrahi from the U.K. is drawing major attention here in the U.S.
The Times of London reports "commercial considerations" – specifically oil – was behind the release, and the news has assured the controversial decision will continue to see time in the American media spotlight.
From The Times:
The British government decided it was "in the overwhelming interests of the United Kingdom" to make Abdelbaset Ali Mohmed al-Megrahi, the Lockerbie bomber, eligible for return to Libya, leaked ministerial letters reveal.

Gordon Brown's government made the decision after discussions between Libya and BP over a multi-million-pound oil exploration deal had hit difficulties. These were resolved soon afterwards.
This would signal a departure from the storyline of last week: why the Scottish justice secretary Kenny MacAskill would release al-Megrahi. If this report proves true, MacAskill actually had less to do with the release than some of the more powerful forces in the U.K. government.
Every cable morning show discussed the story this morning, and it continues to be seen on CNN, Fox News and MSNBC today.
"How would you feel if you were a family member of one of those people killed on that plane?" asked Fox & Friends co-host this morning, before playing a heart-wrenching clip of a father describing his son from earlier on the show.
But on MSNBC, Joe Scarborough took it a step further. After Pat Buchanan asked the question about whether the White House knew what was happening, Scarborough continued. "Anybody that works in Washington for more than a day knows the British government is not going to release a terrorist that killed American kids without getting the OK from the American government," said Scarborough. (It wasn't just the "right" side of Morning Joe either – Mike Barnicle said the idea the U.S. government didn't know beforehand was "preposterous.")
The lack of information, and the slow leak of new and explosive storylines, means the release will continue to be a major story in America. While the bombing occurred overseas, 189 of the 270 victims were Americans. While the release brought outrage when it occurred two weeks ago, the story at the time was about a "compassionate" decision by MacAskill, and that al-Megrahi had just a few months to live. If either of these two are found to not be the case, the uproar will be far larger.
The Lockerbie bomber release story will be the latest U.K. import to gain major steam in America – and especially in the American media.
Here are Scarborough's comments::
—–
» Follow Steve Krakauer on Twitter
Have a tip we should know? tips@mediaite.com