The Silent Marijuana Majority: Pat Robertson, Arianna Huffington, Snoop Dogg And… Me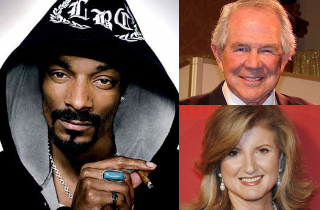 If you were to put televangelist Pat Robertson, progressive media mogul Arianna Huffington, libertarian billionaire David Koch, and rap/reggae artist Snoop Dogg in a room together, do you think you could get them all to unanimously agree on anything?
Sounds like an impossible task. But actually there is common ground: they all believe our war on marijuana has failed. All of the above public figures believe in either the decriminalization or legalization of marijuana.
And as it turns out, they are part of the silent majority on this issue.
As we've reported here in the past, various polls show that a majority of Americans support either legalization or decriminalization of marijuana.
These figures fly in the face of the "common knowledge" which holds that these are politically unpopular positions.
A new online project called "Marijuana Majority" seeks to correct that myth once and for all. Founded by members of anti-drug war groups like Drug Policy Alliance, Law Enforcement Against Prohibition, National Organization for Reforming Marijuana Laws, and Students for Sensible Drug Policy, the website collects all the public figures who have ever spoken out against our harmful drug laws into a drug reformer encyclopedia of sorts.
"Marijuana Majority exists to help more people understand the simple fact that supporting commonsense solutions like regulating marijuana sales and ending marijuana arrests are mainstream positions and that there's no reason those who support reform should be afraid to say so," explains the site's founder Tom Angell.
And so if you take issue with our current drug laws, you don't need to feel alone. There are plenty of well-known public figures right there beside you.
You've got the usual suspects, i.e., actors like Brad Pitt, Susan Sarandon, Salma Hayek, and Morgan Freeman:

But you've also got prominent politicians like former Presidents Jimmy Carter and Bill Clinton, and well-known preachers like the aforementioned televangelist Robertson:

There are also Fox News personalities like Greg Gutfeld, John Stossel, Judge Andrew Napolitano, Andy Levy, and… Shepard Smith:

There are also the lesser-known writers, like yours truly, who are humbled to be included:

Heck, even ultra-conservative stalwart Tom Tancredo made the collection for coming out as a pro-legalization advocate in Colorado:

Curiously, there's one very famous person missing from the website. In 2004, this particular person said: "The war on drugs has been an utter failure. We need to rethink and decriminalize our marijuana laws."
Sound familiar?
Yeah, that was Barack Obama. Despite once holding those beliefs, he is now seemingly part of the anti-marijuana minority. And thus excluded from the website.
— —
>> Follow Andrew Kirell (@AndrewKirell) on Twitter
Have a tip we should know? tips@mediaite.com