The Twitter Inquisition Strikes Again: Harmless Joke Provokes Soulless Mob to Strike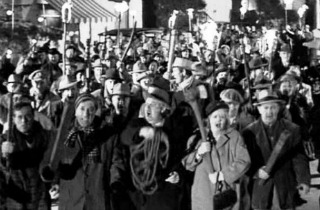 Apparently, the evisceration of former public relations professional Justine Sacco over a tasteless but relatively harmless joke on Twitter was so satisfying that a sequel was required.
On Tuesday night, the gaping mouth of the mob yawned open once again and demanded a sacrifice. The masses were apparently sated when a relatively anonymous Twitter user with just over 1,000 followers tweeted a harmless joke that provided thousands with the opportunity to feel superior to her.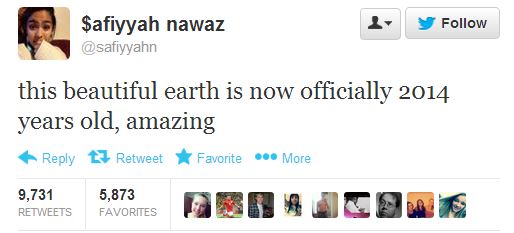 A user with the handle @safiyyahn ($afiyyah nawaz) tweeted "this beautiful earth is now officially 2014 years old, amazing" at precisely midnight on New Year's Day. This tweet has thus far received nearly 10,000 retweets and over 5,000 favorites. It has also inspired such thoughtful responses as "#dumbbitch," "go back to school," and "you are also a dumb bitch because dinosaurs were billions of years before 'Jesus.'"
RELATED: PR Exec Justine Sacco Fired for 'I'm White' AIDS in Africa Tweet
Two and a half hours later, under a withering assault of disapproval and manufactured outrage surrounding this tweet, @safiyyahn opened up about how chastened she was by the horde.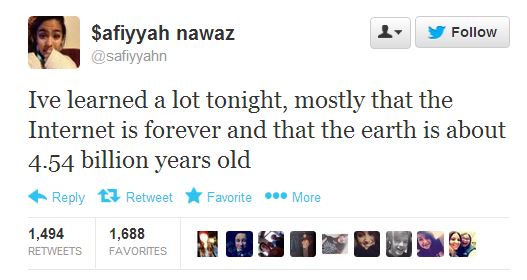 She even changed her Twitter biography to ward off future inquisitors seeking to inform the user of her incorrect thought and aggrandize themselves in the process. "I GET IT," she wrote in capital letters, "THE EARTH IS APPROX. 4.54 BILLION YEARS OLD."
The democratizing effect of social media has many benefits for discourse and society as a whole, but episodes like this make you wonder if it is really worth it.
[Photo via screen grab]
— —
> >Follow Noah Rothman (@NoahCRothman) on Twitter
Have a tip we should know? tips@mediaite.com