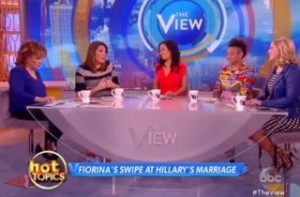 Last night, in the GOP undercard debate, Carly Fiorina took a jab at Democratic frontrunner Hillary Clinton when she started talking about former president Bill Clinton's infamous unfaithfulness to their marriage. Today, the women of The View also discussed the infidelity, but spun it in a much more positive light.
"Hillary staying with Bill is a major selling point for me," said Michelle Collins. "She will commit to her man. She will commit to her country. Bitch commits."
(Here is a great time to sprinkle a little nostalgia on your weekend! Remember in 1992 when Hillary famously said, "I'm not sitting here some little woman standing by my man like Tammy Wynette," to Steve Kroft on 60 Minutes when Bill's first public cheating scandal with Gennifer Flowers broke? I mean, I don't because I was eight days old when that interview aired, but you might!)
"I was offended by what Carly said because I don't think women have to tear each other down to be successful," said Sunny Hostin, then pointing out that by staying in her marriage when it got tough, Clinton was embodying the "family values" of the party Fiorina represents.
When Raven-Symoné wondered aloud if Clinton might have stayed for career gains, Joy Behar asked, "What's wrong with that?"
The ladies of The View don't always kill it with their political commentary, but today's discussion of women in politics was nuanced and, well, powerful.
[image via screengrab]
For more from Lindsey, follow her on Twitter.
Have a tip we should know? tips@mediaite.com