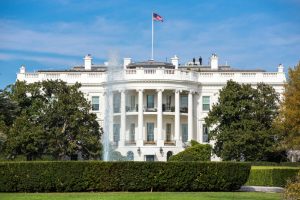 If you wanted to know how much the home of the President of the United States would sell for in the real estate market, look no further. 1600 Pennsylvania Avenue is currently listed on Zillow, the online real estate marketplace database.
According to its Zillow listing, the White House has a 'Zestimate' value of $397,857,981. They also show the 55,000 square foot home has 16 bedrooms and 35 bathrooms.
Sitting on 18 acres and built in 1800, the listing has the White House as a single-family residence. Some of the features of the mansion are a tennis court, fitness center, hot tub, barbecue, pool and wet bar. It also has disability access and is cable ready. There are these other high-end features for the occupants:
The First Family enjoys the top two floors as its private living area. These floors are altered to accommodate the needs of each new president. In addition to many bedrooms, you'll find a sun room, music room, game room and gym. Also within the house is a library, a doctor's office, flower and carpenter shops, and a bowling alley. Head to the East Wing, past the 40-seat Family Theater to the offices of the First Lady, the White House social secretary and correspondence staff.
Per the listing and based on value of the property, the owner could expect to collect roughly $2 million a month if rented out.
Alas, this property is off the market, as President-elect Donald Trump will be moving in on Friday.
[image via Shutterstock]
–
Follow Justin Baragona on Twitter: @justinbaragona
Have a tip we should know? tips@mediaite.com