TheMarySue.com and Mediaite.com Welcome Record Number of Visitors in May and June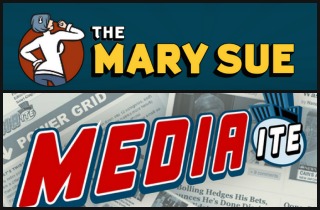 These are good times at Abrams Media. We have just expanded our sales team, hired a full time original video editor and just welcomed record traffic, again. (Oh, and we painted the office a sort of creamsicle-ish orange.)
For the third time this year Mediaite broke its previous monthly traffic record. In the month of June, Mediaite.com welcomed a record 7.24 million unique visitors to the site. That now puts it in an elite group of web properties with that kind of reach. For context, that means Mediaite alone does more than triple the traffic of a site like AdWeek which includes all of the MediaBistro blogs, and similar traffic to stalwarts like NBC.com and TheHill.com who have staffs many times our size.
Just as important, we hosted almost 500,000 kind, friendly and always loving comments. Ok, well the number of comments is accurate. Furthermore, as so many of you know, the top media "influencers" continue to be regular visitors to (and subjects for) this site. This team is one of the strongest Mediaite has ever had and I'm so proud of the compelling, smart content they put out again this month.
But thats not all. . . TheMarySue.com, our witty, thoughtful, and often outspoken "girl geek" site saw record traffic in May welcoming 3.5 million unique visitors (with a really strong June as well). As the female lens on everything from fun and quirky to important and sometimes controversial stories in the world of entertainment, comics, sci fi and beyond, they continue to inspire a new generation of fans (a particular shout out and big thank you is in order here to/for Editor Jill Pantozzi who is leaving us at the end of this week — she helped make TheMarySue what it is today). This is just the beginning for that site as it is poised to grow exponentially in the months ahead.
We will have some additional exciting, big announcements in the weeks to come. In the meantime, congratulations to everyone and I certainly hope the paint job doesn't deter any of the writers from coming into the office more often.
— —
Have a tip we should know? tips@mediaite.com