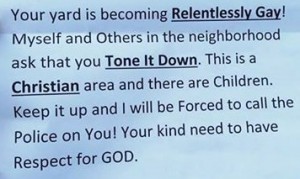 A few weeks ago, Baltimore resident Julie Baker claims she found a note addressed to her on her doorstep. In it, a concerned neighbor accused Baker's rainbow-colored yard decorations as being "relentlessly gay," and cautioned her against such displays as the area was "Christian" and filled with impressionable little ones.
In response, Baker started a GoFundMe crowdfunding campaign to raise money to acquire "more rainbows… Many, many more rainbows." She created the page on June 16, and has raised over $43,000 — well beyond the campaign's initial $5,000 goal. Of course this all sounds like a great victory against homophobia, but that's the problem for some. It just sounds too good to be true.
Several outlets have discovered several inconsistencies in Baker's claims. For starters, there's the matter of her insistence that she's been in contact with the local police department, and that the detectives assigned to her case are "satisfied" with her cooperation:
I have been in contact with the police, they are satisfied with me, I am satisfied with them, and am grateful to them. They have no reason to believe that I have done anything wrong or been anything but authentic. They even have the long history of the various things that have happened to me since moving into my house.
However, a detective associated with Baker's case gave a much different account:
The detective to whom we spoke said that Baker was either unwilling or unable to produce the letter in question, and that she had maintained it was no longer in her possession.
Add to these mounting discrepancies the striking similarities between the supposed letter's use of capitalization and Baker's own writing, her quickness in capitalizing on the viral media frenzy via personal branding, and her problematic accusations against a nearby Presbyterian church that actually recognizes same-sex marriage. Basically, things aren't looking so good for the original story.
Baker did address the controversy on her GoFundMe page, albeit ambiguously:
On a sadder note, the world is filled with hate and fear, as such I want to work to remove any doubt about the authenticity of the letter. Until then I am not taking a dime out of this account.
Yet this was in her last update, which was posted six days ago. Meanwhile the campaign remains open, and the donations keep pouring in.
[h/t Baltimore Sun, Daily Caller and Snopes]
[Image via Facebook]
— —
>> Follow Andrew Husband (@AndrewHusband) on Twitter
Have a tip we should know? tips@mediaite.com