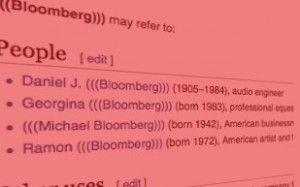 There's an extension on the Google Chrome store entitled "Coincidence Detector" that tracks and flags the identities of writers and institutions that are Jewish or perceived to be "anti-White."
As Mic reported Thursday, the extension draws "from a user-generated list of Jewish names, the extension works in the background while users browse the web and encases the names in three sets of parentheses —i.e., (((Fleishman))) — on web pages."
Coincidence Detector, which was uploaded by "altrightmedia" — a nod to the alt-right, a fringe conservative movement newly emboldened by the popularity of Donald Trump — boasts that it "can help you detect total coincidences about who has been involved in certain political movements and media empires." The description is, of course, tongue in cheek: White supremacists believe Jewish involvement in politics, media and entertainment is part of an enormous conspiracy. The echo is intended to call attention to Jewish people's corrosive effect on white society throughout Western history. 
Mic's report includes a screenshot of the way a Wikipedia search for "Bloomberg" is rendered when the extension is running on your browser: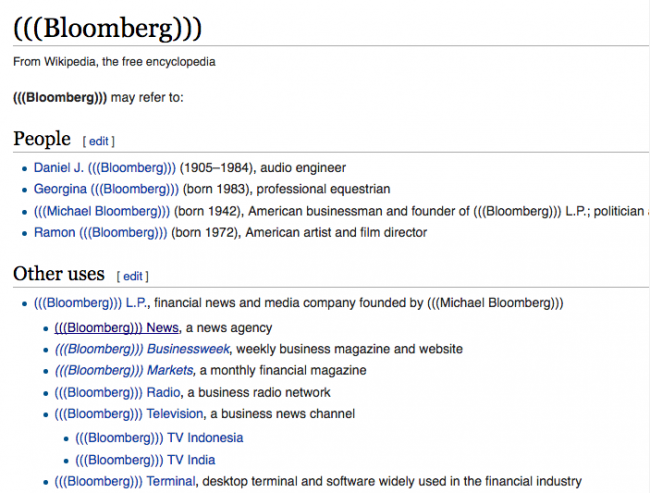 After looking at the extension's code, writer Joe Veix dug up and published a complete list of names targeted by Coincidence Detector.
@mattdpearce @_Cooper i dug into the extension's code and found the full list of people it targets https://t.co/kYawG0oaOM

— Joe Veix (@joeveix) June 2, 2016
The list of names and words that the extension flags is largely comprised of common Jewish surnames and full names of specific individuals, many of whom appear to be prominent figures in media, entertainment, and journalism. The list is conspicuously populated with Jewish names, but also includes outspoken public figures who have decried Trump and the alt-right.
Names on the list include Star Trek actor Leonard Nimoy, who passed away last year; comedian Louis CK, who has compared Trump to Hitler; American actor Lee J. Cobb, who died in 1976 and is perhaps best known for his roles in The Exorcist and 12 Angry Men; Art Spiegelman, author of Maus, the comic book memoir of the Holocaust; late Hollywood directors Cecil B. Demille and Billy Wilder; among many, many, many others.
It also includes "Kars4Kids," the nationwide charity organization; the ice cream franchises Ben & Jerry's, Haagen Dazs, and Baskin Robbins; and the occassional trigger word like "Marxism."
Mic's Cooper Fleishman and Anthony Smith report that the list of names is regularly updated with input from users. "With the click of a button, users are able to refresh Coincidence Detector to make sure their list of known Jews and other "anti-whites" reflects the most recent additions to the database," they write.
Have a tip we should know? tips@mediaite.com