Third Time's The Charm? Appeals Court Upholds Overturning NYC Soda Ban, Bloomberg To Appeal Again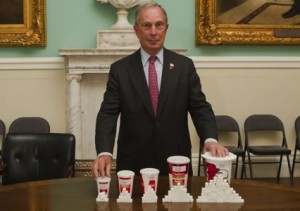 New Yorkers, get ready to swill massive quantities of soda again, because a New York appeals court just overturned Mayor Michael Bloomberg's ban on soft drinks over 16 ounces. The appeals court upheld the decision by a lower court in March that the proposed law would be "arbitrary and capricious." Bloomberg appealed that decision, and in a statement released today, he said he will appeal this one as well.

According to Reuters, the court ruled that the law was in violation of "the state principle of separation of powers" and went beyond the scope of simply encouraging New Yorkers to make healthier decisions.
In particular, the court focused on the law's loopholes, which exempted businesses not under the auspices of the city's health department and left certain drinks, such as milk-based beverages, unaffected…

"The exceptions did not … reflect the agency's charge to protect public health but instead reflected the agency's own policy decisions regarding balancing the relative importance of protecting public health with ensuring the economic viability of certain industries," Justice Dianne Renwick wrote for the court.
Bloomberg, naturally, was not happy with the decision, and plans to appeal it once again.
"Since New York City's ground-breaking limit on the portion size of sugary beverages was prevented from going into effect on March 12th, more than 2,000 New Yorkers have died from the effects of diabetes. Also during that time, the American Medical Association determined that obesity is a disease and the New England Journal of Medicine released a study showing the deadly, and irreversible, health impacts of obesity and Type 2 diabetes – both of which are disproportionately linked to sugary drink consumption. Today's decision is a temporary setback, and we plan to appeal this decision as we continue the fight against the obesity epidemic."
If courts keep rejecting the ban and Bloomberg keeps fighting it, could we see the future of soft drink bans decided before the Supreme Court?
—–
Follow Josh Feldman on Twitter: @feldmaniac
Have a tip we should know? tips@mediaite.com
Josh Feldman - Senior Editor