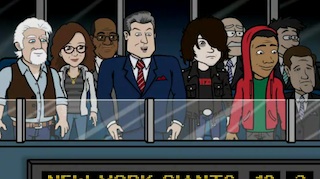 It's a fact of life that NBC has the best sitcoms currently airing on network TV (If you disagree with that fact, you might as well stop reading this post now. Here are some wacky Two and a Half Men bloopers to watch instead). Unfortunately, those sitcoms are stuck on the absolute ratings sink hole that is NBC. So, unfortunately, brilliant shows like Community get taken off the air and 30 Rock is stuck hitting an all time rating low.
Fortunately, we don't cover sitcom ratings here at Mediaite so I can pretend to live in a fantasy world where people on the street walk around with Parks and Recreation merchandise instead of the sad world I live in where I literally see people everywhere wearing…sigh…"Bazinga" shirts. So, to continue to fuel my fantasy, I'm going to pretend that there are people out there who are really excited to watch this hilarious 30 Rock webisode!
Hooray, delusion!
Anyway, these webisodes, which star Alec Baldwin's Jack Donaghy character, have featured some great guest stars in the past, but this one takes the cake. I don't want to ruin any surprises, but I will say that it includes a cameo from Donald Glover (who, trivia fans, used to write for 30 Rock) and features Michael McDonald covering the Saved by the Bell theme. That moment alone is better than 90% of TV.
Enjoy the video from sad, sad, sad NBC below and try to remain in fantasy world for a few minutes longer:
(h/t Entertainment Weekly)
Have a tip we should know? tips@mediaite.com