This American Life Retracts Chinese Apple Factory Segment Due To 'Significant Fabrications'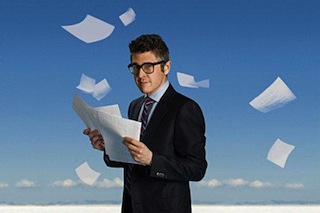 Well, I guess we can get ready for a deluge of Shattered Glass references, huh?
Today, This American Life host Ira Glass wrote a blog post and released a press release announcing that the successful show has been forced to retract a segment from January after finding "significant fabrications." Not only that but the next new episode of the show will entirely deal with why they made the decision.
The segment in question was entitled "Mister Daisey and the Apple Factory." It was an adaptation of part of Mike Daisey's one-man show, The Agony and the Ecstasy of Steve Jobs, in which he tells the story of his trip to China after he, an "Apple superfan," is worried about the reports of the working conditions in the factories producing Apple products.
According to Glass, another radio show, Marketplace, has since spoken to the translator Daisey used who disputed much in the piece. After, doing some of their own research, the This American Life staff decided to retract the whole segment.
From Glass' post:
"Daisey lied to me and to This American Life producer Brian Reed during the fact checking we did on the story, before it was broadcast. That doesn't excuse the fact that we never should've put this on the air. In the end, this was our mistake.

We're horrified to have let something like this onto public radio. Many dedicated reporters and editors – our friends and colleagues – have worked for years to build the reputation for accuracy and integrity that the journalism on public radio enjoys. It's trusted by so many people for good reason. Our program adheres to the same journalistic standards as the other national shows, and in this case, we did not live up to those standards."
However, Daisey has written his own statement in which he stands by his piece:
"I stand by my work. My show is a theatrical piece whose goal is to create a human connection between our gorgeous devices and the brutal circumstances from which they emerge. It uses a combination of fact, memoir, and dramatic license to tell its story, and I believe it does so with integrity. Certainly, the comprehensive investigations undertaken by The New York Times and a number of labor rights groups to document conditions in electronics manufacturing would seem to bear this out.

What I do is not journalism. The tools of the theater are not the same as the tools of journalism. For this reason, I regret that I allowed THIS AMERICAN LIFE to air an excerpt from my monologue. THIS AMERICAN LIFE is essentially a journalistic ­- not a theatrical ­- enterprise, and as such it operates under a different set of rules and expectations. But this is my only regret. I am proud that my work seems to have sparked a growing storm of attention and concern over the often appalling conditions under which many of the high-tech products we love so much are assembled in China."
The next episode of This American Life will be an entire hour detailing the alleged errors in the original piece.
Oh well, at least Glass got to enjoy a fun cameo in last night's 30 Rock.
Have a tip we should know? tips@mediaite.com