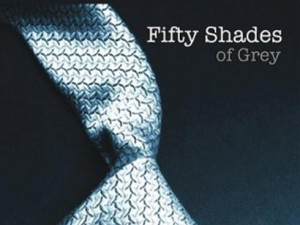 If you ever book a reservation at the Damson Dene Hotel in England, don't expect to have a copy of the Bible waiting for you. Instead, the hotel's owner has replaced the religious text with none other than the disturbingly popular book Fifty Shades of Grey. Because really, what could be a better alternative to the Bible than a book featuring bondage and sadomasochism?
RELATED: Gilbert Gottfried Brings His Sexy Voice To An Erotic Reading Of Fifty Shades Of Grey
Jonathan Denby, the hotel owner, said that he thought it would be "wholly inappropriate" to have the Bible in his hotel "in a modern secular society." Initially, he considered replacing it with Ayn Rand's Atlas Shrugged, but decided to feature the steamy novel instead. Why?
"[B]ecause everybody is reading 'Fifty Shades of Grey,' we thought it would be a hospitable thing to do, to have this available for our guests, especially if some of them were a little bit shy about buying it because of its reputation."

The choice to offer "Fifty Shades of Grey" was done purely for fun and just because the novel is so popular, not for any deep philosophical reason, Denby added, noting that he himself has not read the book.
Obviously, the local vicar is unhappy with the move, denouncing the decision to replace the bible with "an explicit erotic novel." The hotel owner has noted that people from the United States have had a much stronger response to the decision, and pointed out that if guests would still like a copy of the Bible, one will be provided for them at the front desk.
h/t NBCNews.com
Have a tip we should know? tips@mediaite.com
Josh Feldman - Senior Editor