This Exists: Hulk Hogan Goes On BBC Radio And Promises To Bodyslam London Rioters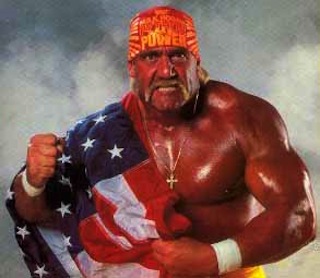 To our friends across the pond, you can breathe a sigh of relief; The multiple days of violence and protests will soon be at an end. Hulk Hogan, a man who has valiantly protected our nation for years, appeared on the BBC Radio show of Richard Bacon and suggested that "maybe Hulkamania should run over there and start dropping legs and hitting people with big boots and just stop the action."
Remember, a real American sticks by his allies.
Don't worry. No, Hogan has not lost it. As the interview continued, it became clear that he was merely responding to Bacon's Twitter followers who, hearing he would be a guest, had specifically asked Hogan to intervene in his typical manner. After joking around, Hogan suggested a slightly more reasonable solution:
"Y'know, it doesn't really matter if Hulk Hogan's over there bodyslamming all the youth like I did Andre the Giant but, at the end of the day, we need to grab these kids, shake them, and say 'Stop! Regroup! Just look at yourself in the mirror. Is this what you want the mirror image of your life to be? Is this what you want your destiny to be?' Not it's time to change directions. Even if the state has to step in and really focus on getting these kids back on track. But, you know what? I will do anything because I love my UK Hulamaniacs."
Listen to him. Hogan knows how to raise troubled kids.
Listen to the clip below:
(h/t Arthur LeFebvre)
Have a tip we should know? tips@mediaite.com