This Exists: United Nations Announces Official (Space) Alien Ambassador (UPDATE)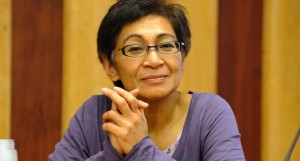 Take that, firemen and cowboys. There is now a new career of choice for six year olds everywhere as the United Nations is expected to announce Malaysian astrophysicist Mazlan Othman as their official Alien Ambassador. This job will make Othman the "go-to contact" if extra-terrestrial life ever comes to Earth. Clearly this news is most important for the people of Hollywood. If they want their films to have verisimilitude, they'll have to remember that a tiny CG version of Othman should always be shown getting zapped first.
So who is Othman and how'd she get the job? From Wired:
"Othman was Malaysia's first astrophysicist, became the head of the country's national planetarium (Negara) and launched the first Malaysian astronaut, Sheikh Muszaphar Shukor, to the International Space Station in October 2007.

Now, Othman is the director of the UN's Office for Outer Space Affairs (UNOOSA); a branch of the General Assembly, established in 1962. The office is responsible for promoting international co-operation and peace in dealing with outer space, and includes topics such as satellite navigation and space debris."
She definitely sounds pretty darn smart and she must be to have nabbed a job this awesome. Not only does she get to meet aliens if they ever come but, until then, I'm assuming she just gets to hang out writing catchy five note songs. If that's the case, then I would like to take the time to announce my new position as Mediaite's official Alien Correspondent. In the event of an extraterrestrial encounter, I will be the go-to person on this site to cover it. Until then, I'm going to be at the beach…researching…crop circles…in the sand.
UPDATE: Boo. The Guardian is now reporting that Othman, in an email to the paper, is quashing the story, saying "It sounds really cool but I have to deny it." She's actually just going to be attending a conference to talk about "near-Earth objects." So was this all a widely spread miss-communication, or…is that just what the aliens want us to think?
Have a tip we should know? tips@mediaite.com