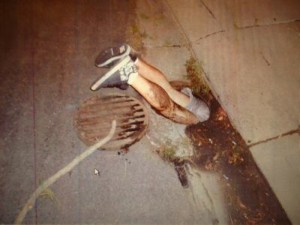 With this iconic image comes quite a tale. As the news anchors in the local California Fox News 40 studio said, "it looked like a joke, but really there is a lot more to this story."
Brianna Mooney was just hanging out and minding her own business when she heard Jared Medeiros screaming. She looked out her window and witnessed first hand the image of a man's flailing legs sticking out from a manhole. "I was like… What?" she told Fox news anchor Tihanna McCleese.
The cops were eventually called and Maderos was removed from the hole. However, it appears that the cops were unable to resist snapping a photo before providing aid.
Madeiros claims that "four guys walked by me and said something about a gang". They then apparently beat him and threw his cell phone down a storm drain so he couldn't call for help. He was reaching in to the drain to retrieve his phone when he got stuck and remained stranded for forty minutes.
The real star of this local news segment is reporter McCleese, who struggles to lift the storm drain and then tries to climb in to it, proudly announcing, "oh, that's how you get in!" She appears to doubt Medeiros' story, asking him "were you drunk?" with a surprisingly straight face. She also allows him to showcase his injuries, which maybe appear consistent with a beating, but also appear (to these untrained eyes) to be consistent with… getting stuck in a man hole.
Enjoy:
(h/t)
Have a tip we should know? tips@mediaite.com