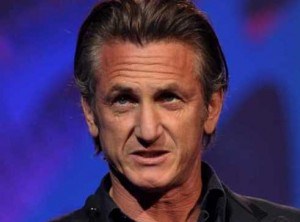 I haven't been doing enough charitable work. This holiday season I've been coming to grips with that reality as tragedies, both man made and natural, scar the landscape. I'm not talking about financial donations (which are obviously also crucial) but about actually committing time and effort. My New Year's resolution is to try to stop making excuses about how "busy" I am, and that has me thinking about the many busy people who walk the walk when it comes to often monotonous, sometimes arduous, but absolutely essential charitable work.

It's with this backdrop that I have been thinking a lot about Sean Penn lately. Yes, that Sean Penn.
First, let me say that I don't think I like him. Sure, Penn is a world class actor but he also seems like a world class jerk. In addition to all of the reported fights he has instigated and intentionally inflammatory comments he has made, a couple of weeks ago he not so subtly and totally gratuitously slammed both of his ex-wives, Madonna and Robin Wright, telling Esquire magazine: "There is no shame in saying that we all want to be loved by someone. As I look back over my life in romance, I don't feel I've ever had that… I have been the only one that was unaware of the fraud…"
Ugh.
Then there was my interaction with him about five years ago at a restaurant in New York. I was sitting with a friend and felt a tap on my shoulder. My back was to the main room so I turned around to see an outstretched hand near my face. Without realizing who it was, I began the process of shaking said hand only to hear the person say "Congratulations on thousands dead in Iraq." By the time I had time to process that the palm of the person who interrupted my dinner to make that outrageous statement belonged to Sean Penn, he had smugly turned away and returned to his table. His facetious visit, clearly a response to my having criticized Penn on my MSNBC show for what I viewed as his counterproductive and dangerous theatrics leading up to the war in Iraq.
So it is with that bias against him that I have been thinking that maybe it's time to appreciate that same "tenacity" that has led him to offend many, including me at a swanky bistro.
It was January 2010 when Haiti was rocked by that devastating earthquake that killed over 300,000, injured another 300,000 and left over a million homeless. Despite billions of dollars in aid, hundreds of thousands still remain displaced, living in tents almost three years after the disaster. Though there were many immediate charitable responses to the disaster and so many showed our support for the Haitian people at the time, their suffering has continued with seemingly unending misfortune. As rubble continued to fill the streets and many remained homeless from the quake, the nation was hit again by Hurricane Sandy — which destroyed 90% of their crops and left 70% of their population facing hunger. One high profile person in particular, has continued working tirelessly for that still ravaged and often forgotten nation: Sean Penn, founder and CEO of the J/P Haitian Relief Organization (J/P HRO). What could be a charmed and effortless life spent in large part in a dismal place using devotion and chutzpah to try to save a nation.
Yes, there are plenty of people who aren't rich nor famous doing God's work in a myriad of ways and I'm not singling them out in this article. Fair enough. But then again, most of them don't have the sort of cushy options Penn does and maybe his notoriety can do something else, help galvanize the rest of us.
Unlike many celebrities and plebeians alike who offer a hand, dollars or their names to a charity, Penn isn't just helping, he is living it the way so few have the wherewithal and/or determination to do. Apparently he's been spending over 50% of his time living in Haiti since the earthquake and in digs that are hardly chichi. Immediately after the quake, he parked himself in a tent right in the middle of the destruction, and now regularly sleeps in a house with the other J/P HRO staff members. Providing services to victims, including housing relocation services, rubble removal services, free medical care at two community clinics, an education program for children, and a redevelopment program for badly damaged structures, Penn is working to solve long term problems by working on them, long term.
Sure, he has received numerous public accolades and was widely recognized by the media but mostly closer to the event itself and I guess I'm somewhat awestruck that he is still at it years later most often with no cameras or media celebrating that work. Now it's just that: work.
In September, he began efforts to help raze the palace so badly destroyed by earthquake damage, attended a Clinton Global Initiative session to discuss specific needs there, is proposing new road maps which could bring long-term development to the nation, promoted solar lighting (to prevent rape) and just helped complete the first model home.
Causes that don't impact our everyday lives, are often the hardest to support. Seemingly interminable conflicts and atrocities in far off places like Congo as well as life in still earthquake devastated Haiti, are difficult to keep on the American public's radar and even harder for any of us to impact apart from making donations.
As it turns out, he is exactly what Haiti and other seemingly overwhelming causes like it need: an impassioned zealot, maybe even shameless and at times rude, but totally committed to the cause. Penn said about Haiti, "This is where I'll be when I'm not working, for the rest of my life." So this holiday season I'm thinking about how the guy who tried to diss me at a restaurant, that guy with unlimited options, is serving up real assistance to often helpless people in dire need.
I don't need to meet Sean Penn again, I don't need to like the man, but I can certainly be inspired by him and those few others like him, to try to do something more this holiday season and in the year to come.
Have a tip we should know? tips@mediaite.com