'This Pisses Me Off': Whoopi and The View Ladies Tear Into Trump's Appointments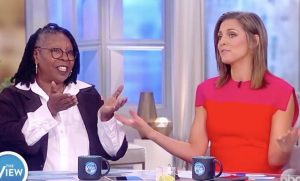 On The View today, the possible selection of Jeff Sessions as Donald Trump's Attorney General was a big topic, just as the appointment of Steve Bannon as chief strategist was a few days ago. Unsurprisingly, Sessions' past racist behavior was mentioned by everyone at the table.
Sunny Hostin explained that the Attorney General "sets the tone and it goes all the way down." She explained that her friends in the civil rights division are looking for a new job because they are afraid the Trump administration and Sessions will cut their funding.
Sessions' past remarks — including calling a black federal prosecutor "a boy," indicating that a white lawyer working for black clients was a "race traitor," and disparaging civil rights organizations as "un-American" — were brought up by Hostin, causing Joy Behar to sigh, "He's a beauty, this one."
They went on to point out that former KKK grand wizard David Duke has been celebrating the addition of Bannon, Sessions, and General Mike Flynn to Trump's team. Paula Faris said that's probably "the most damning" thing that could happen.
Faris still went on to say she hopes that people can put their personal differences aside because she is an optimist.
"I'm an optimist, too," said Whoopi Goldberg. "This does not make me optimistic. This pisses me off. We have fought in this country ever since  — the people talk about 'You try to put stuff behind you,' listen: The Native Americans who were here before everybody had trouble, okay? So we tried to fix that, we tried to make it better … and if you're talking about  'it's a backward move to do civil rights,' why are you even running? Why don't you just stay home if that's how you feel? This is America, black people are not going anywhere they are not going to be slaves anymore, so take that out of your head. Muslims who were born here as Americans are not going anywhere. We're not going anywhere. I don't know why you don't get this part!"
Watch above to see them share the fears of their disenfranchised friends.
[image: screengrab]
Have a tip we should know? tips@mediaite.com