This X-Rated Paul Ryan Fanfic Shows Some People Have Way Too Much Time on Their Hands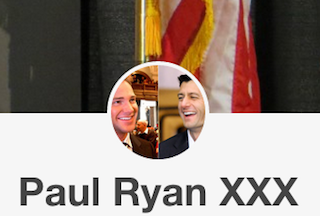 So, this exists. A new Tumblr popped up out of nowhere this weekend and it features some seriously steamy fan fiction about a gay love affair between Republican Representatives Paul Ryan and Aaron Schock.

Titled "Part 1," the first post promises more to come, but on its own offers some aggressively-imagined sexual scenarios between the two congressman. Below is an excerpt of one of the tamer passages (believe it or not).
Before Aaron knew what was happening, Paul leaned in and kissed him.

Aaron's mind had never felt like this before. It was beyond racing. He wasn't even thinking anymore. All he was conscious of was Paul's warm body leaning into his, their lips and tongues meeting for the first time.

Paul reached up and ran one of his hands through Aaron's hair as they continued kissing. His other was placed firmly on Aaron's thigh. Aaron had no idea how long they sat like that. Time had stopped in his mind.

Then, suddenly, Paul was standing. He grabbed one of Aaron's hands and looked at him. He smirked, tugged Aaron's hand, and nodded to the bed.

Aaron stood, stepped and slid on to the bed. Within moments Paul's body was on top of his, embracing him. Their lips met again, restarting what had been so long in coming.

Another minute passed before Paul stopped and began unbuttoning Aaron's shirt. Aaron laid back, his eyes looking up at the high ceiling, trying to process what was going on.

"Fuck, you're hot," Paul whispered, staring down at Aaron's chest. Aaron smiled, looking up at the man he'd thought about for years.
Long hailed for his good looks, rumors have swirled about Schock's sexuality, especially given his single status. Despite generally having an "anti-gay" voting record, The New York Times surprised many by naming him a "gay icon" in 2010.
As for Ryan, this is not the first time he's been the subject of pornographic fan fiction, or "slash fiction" as it is often called when it's between two men. During the 2012 campaign, some graphic Romney/Ryan stories made the rounds.
[h/t BuzzFeed]
[photo via screengrab]
— —
>> Follow Matt Wilstein (@TheMattWilstein) on Twitter
Have a tip we should know? tips@mediaite.com