Thou Shalt Not Tweet! Or Text, Or Email, Or Facebook: The e-Sabbath Is Upon Us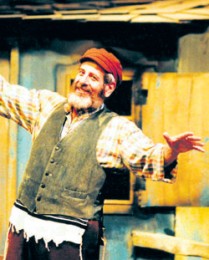 I am attached to my blackberry. Sometimes, when I'm holding it, my other hand goes to my pocket automatically in search of it. I'm on a plane now with it, and will be typing this post furiously until the flight attendant makes me stop – at the very last minute.
I love technology and man is it helpful. But it also means you're always on. Always findable. Always available to "just take five minutes" to answer an email, tweet a link for someone, check in quickly on FourSquare. And our reflexes have developed accordingly. (This I know well after a week of SXSW!) So that's why I'm strangely pumped to embark on the National Day of Unplugging, to take some time away from tech to celebrate life IRL. (That's "in real life" for those of you who don't speak nerd, yo.).
From the New York Times:

But if Moses were redelivering his theophany today – the assembled crowd furiously tweeting his every sound bite – one imagines the frustrated prophet's taking a moment to clarify what God meant, exactly, by a "day of rest."

For starters, how about putting down the iPhone? Easier said than done in an age when careers rise and fall on the strength of one's Twitter prowess. But that's exactly what a group of Jewish tastemakers is trying to promote this weekend with its first annual National Day of Unplugging.

The experiment, which lasts from sundown Friday, March 19, to sundown Saturday, is the brainchild of Reboot (rebooters.net), a nonprofit think tank of hip, media-savvy Jewish professionals, based in New York, with staff members in Los Angeles and San Francisco. It was founded in 2003, and its members include television executives, Web developers, writers, filmmakers and C.E.O.'s: people for whom the act of "unplugging" could well be most difficult – and most needed.
Disclaimer: I am one of those Reboot Jews, though not quite at the CEO level yet, eh? And to be honest, I've been a passionate advocate for the value of tech to help us connect to people in real and emotional ways – and stick up for myself when people say, "Sklar! Stop tweeting!" But I tweet to share about the things I find important in life, and I berry to give me the flexibility to do those things. Even so, I appreciate the value in the DOING (which is why you'll read my SXSW coverage now that I've finally left). Tonight, I will be joining Reboot-sponsored groups across the country in ceremoniously dropping the berry at the door, turned off and silent and left behind, as I go celebrate what happens when you re-immerse IRL.
But maybe before I do that…I'll check in on FourSquare. L'chaim!
Have a tip we should know? [email protected]