Tim Cook Calls Indiana's Law 'Dangerous': 'Discrimination Is Bad for Business'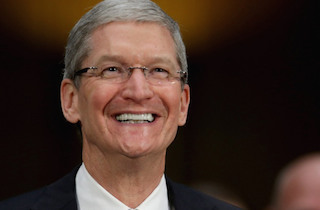 Apple CEO Tim Cook wrote an op-ed in the Washington Post Sunday night declaiming against the so-called "religious freedom" bill just passed in Indiana, and other bills like it around the country, which he saw as legitimizing discrimination. Cook reaffirmed Apple's commitment to diversity and non-discrimination, and called on others to speak out against the bills.
"This isn't a political issue," he wrote. "It isn't a religious issue. This is about how we treat each other as human beings…That's why, on behalf of Apple, I'm standing up to oppose this new wave of legislation — wherever it emerges."
Indiana Governor Mike Pence (R) signed a bill both supporters and critics say would allow businesses to claim a religious exemption to refuse service to gays and lesbians. Since then he has been beset by pushback, especially from the business community, as the NCAA sounded wary of the bill's effects and Angie's List moved to squelch an expansion deal in Indianapolis. Pence's appearance on This Week yesterday didn't help matters.
Cook, who came out as gay last fall, largely focused on the business and economic impacts of the various bills, which would affect both customers and employees.
"America's business community recognized a long time ago that discrimination, in all its forms, is bad for business," Cook wrote. "At Apple, we are in business to empower and enrich our customers' lives. We strive to do business in a way that is just and fair."
"These bills under consideration truly will hurt jobs, growth and the economic vibrancy of parts of the country where a 21st-century economy was once welcomed with open arms," he added.
Read the full piece here, via Washington Post.
[Image via 9to5Mac]
——
>> Follow Evan McMurry (@evanmcmurry) on Twitter
Have a tip we should know? tips@mediaite.com