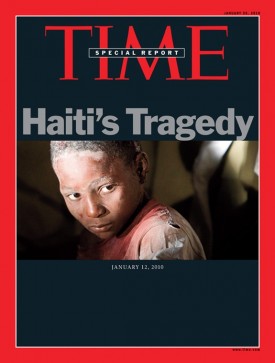 They must have been working double-time in the Time offices this week. In the 36 hours or so since Haiti was devastated by Tuesday's earthquake the magazine has managed to turn around a cover story on the disaster along with a piece by former President Bill Clinton, who during times of natural disasters seems to set the standard for how Presidents can be useful once they leave office. Clinton, by the way, was appointed UN special envoy to Haiti in May of last year.
From President Clinton:
Hillary and I went to Haiti for the first time in December 1975. A banker friend of ours had some business down there. He had built up a lot of frequent-flyer miles and called and said he was giving us a delayed honeymoon. We were married in October, and we went down there in December. Both of us just kind of fell in love with the country, and I have kept up with it ever since.

*
Haiti isn't doomed. Let's not forget, the damage from the earthquake is largely concentrated in the Port-au-Prince area. That has meant a tragic loss of life, but it also means there are opportunities to rebuild in other parts of the island. So all the development projects, the agriculture, the reforestation, the tourism, the airport that needs to be built in the northern part of Haiti — everything else should stay on schedule. Then we should simply redouble our efforts once the emergency passes to do the right sort of construction in Port-au-Prince and use it to continue to build back better.
From Michael Elliot's cover story:
"What makes the earthquake especially 'cruel and incomprehensible,' as U.S. President Barack Obama put it, was that it struck at a rare moment of optimism … But the mood of cautious optimism had not yet begun to improve the basic living conditions of ordinary Haitians. For even on its best day, Haiti is a public health disaster. No Haitian city has a public sewage system; nearly 200,000 live with HIV or AIDS, and just half of Haitian children are vaccinated against basic diseases like diphtheria or measles. The quake will make things unimaginably worse. While emergency-response teams have already begun combing through the wreckage, searching for injured who might still be saved, there are ominous longer-term health risks that threaten the island."
Have a tip we should know? tips@mediaite.com