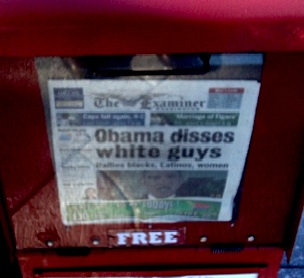 Here in Washington, we don't get the daily glory of the New York Post to keep us on our hyperbolic, pun-driven toes when it comes to headlines. However, we do have one source of joy, and it comes courtesy of one of the free dailies that you'll see commuters reading on weekday mornings: The Washington Examiner.
Now, from the perspective of a daily Metro rider, I'd argue that the Examiner is the second of the two popular free dailies (the other being Express, owned and operated by those friendly folks at the Washington Post); I don't have the exact data to back it up, but I think it's a pretty safe guess. Regardless of numbers, it's prevalent enough throughout town thanks to being passed out in Metro stations and stands scattered throughout town like the one in the picture to the left.
Today, it looks like our friends over at the Examiner won the title of "Glorious Headlines" with their coverage of a recent DNC video that features President Obama placing a charge on non-standard demographic groups ("young people, African-Americans, Latinos, and women") to help lead the party to victory in the 2010 midterm elections. The complain from the conservative leading daily? Where are the white guys!
A quick overview of the coverage:
Ben Smith's headline at Politico: "Obama seeks to 'reconnect…young people, African-Americans, Latinos, and women' for 2010"
Drudge Report's Headline on the link to Smith's story: "OBAMA PLAYS RACE CARD: RALLIES BLACKS, LATINOS FOR '10 UPSET…"
The Examiner, April 27, 2010: "Obama Disses White Guys" (although it's been tamed down on the online version)
I have no power to make this call, but I think The Examiner wins for most irrational headline of the day, plus they used "disses," which is a nice little piece of flair. Other headline entrants are welcome for the day, but you'd be hard pressed to beat this one.
Have a tip we should know? tips@mediaite.com