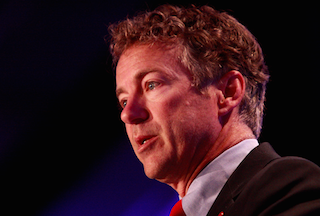 Sen. Rand Paul (R-KY), who reluctantly gave Mitt Romney his endorsement in 2012 and has himself not been shy about his intentions to run for president in 2016, is apparently not thrilled by the idea of facing off against last cycle's loser.
"If he runs to the right of Jeb Bush, he'll still be to the left of the rest of the party, so it may be a difficult spot to occupy," Paul told Fox News Radio's John Gibson. "Look, I like Governor Romney, I like him personally, I think he is a good person, I think he was a great businessman. But you know that's yesterday's news."
"He's tried twice — I don't really think that there is a third time out there," Paul continued. "I think he did a lot of things right, but in the end you got to have a bigger constituency, you got to get new people, you got to attract new people to win and I think it's time that probably the party is going to be looking for something fresh and new."
But who could that "fresh and new" figure possibly be?
And, more importantly, what would a Romney run mean for Paul's chances? According to The New York Times' Upshot editor Nate Cohn, a Romney challenge against the relatively moderate Jeb Bush could actually help the Kentucky senator.
Referring to the New Hampshire primary, Cohn writes:
Even if Mr. Romney doesn't carry the state, he could win enough votes to deny Mr. Bush a victory there — perhaps handing the state to Rand Paul. Ron Paul, Mr. Paul's father, won 23 percent of the vote in New Hampshire in 2012; even modest additional gains could allow the younger Mr. Paul to triumph over a divided field.
While that victory alone might not hand Paul the nomination, it would certainly get him a lot closer to pulling off an unexpected upset.
UPDATE — 3:57 p.m. ET: Sen. Paul reiterated his feelings about Romney, saying it's "time for some fresh blood" in a subsequent interview with The Daily Signal:
[Photo via Gage Skidmore/Wikimedia Commons]
— —
>> Follow Matt Wilstein (@TheMattWilstein) on Twitter
Have a tip we should know? tips@mediaite.com