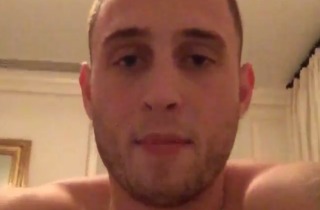 Actor Tom Hanks' son Chet Haze, a self-styled rapper, has found himself in an intense Internet war with Howard Stern, stemming from a longtime feud the two have had ever since Stern called Hanks out over his wealthy upbringing.
On Monday, Haze (real name: Chester Hanks) unloaded on Stern in a series of tweets, many of which have since been deleted. Here's the full rant transcribed, courtesy of Gossip Cop:
Let me come up on your show b*tch… Come catch this fade… have me live on the air and we can go pound for pound see who looks like the fool you dried up old c*nt catch this fade… easy to talk sh*t in a closed off room p*ssy, have me up there in the studio with you let's give the ppl what they want… give your sorry ass white yuppie fans some entertainment and invite me up there, I promise I won't physically whoop your ass… I know you got security old man I'll just intellectual debate with you and show the world you're really just a dried up hater… stop ducking me behind closed doors invite me up there and I'll sh*t on your whole world you f*cking Jheri curled c*nt.

If you keep ignoring me it only proves you a P*SSY ( )V( )… I don't gotta be a gangsta or from the hood to whoop your sickly ass… You been frail and weakly ya whole life! #frail #sickly #fragile you know I will f*ck you up hahaaaa #bitch… Howie… Do you have any idea how badly I am going to assault you when I see you… You can't run from me forever knock knees… Howie… Listen. One day, maybe tomorrow, maybe 10 years from now, I am going to see you in person, and I am going to hurt you… I hope you travel with security!!! PLEASE have me on the show… I'll sh*t on you and your yuppie side kicks on your own show… it's a shame you don't hang in the same circles as my family (not enough bread for that) cuz if you did I woulda already seen u.
But he wasn't done there, calling himself a "walking PR disaster" and betting that entertainment sites would write about his rank the next day:
I AM A WALKING PR DISASTER AND I COULD LITERALLY GIVE A FUCK LESS!!!!!! OH WAIT I MEANT I LITERALY DONT GIVE A SINGLE FUCK!!!!

— Chester M. Hanks (@CHETHAZE) March 31, 2015
THATS WHAT SEPARATES ME FROM YOU PUSSIES… I DONT LIVE MY LIFE BY ANYBODYS RULES BUT MY OWN… SUCK MY FUCKING DICK!!!! LMAOOOO!!!!!

— Chester M. Hanks (@CHETHAZE) March 31, 2015
Average yuppie cornball @HowardStern listener lol pic.twitter.com/4RImi5zjw4

— Chester M. Hanks (@CHETHAZE) March 31, 2015
And, as he predicted, everyone from Breitbart to Perez Hilton and Fox News have covered the story.
Here's Haze describing his Twitter rants in an Instagram video:
— —
Have a tip we should know? tips@mediaite.com