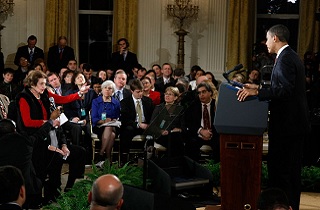 Just a few weeks shy of her 93rd birthday, trailblazing journalist and former Hearst White House correspondent Helen Thomas has died. The onetime Dean of the White House Press Corps died Saturday morning, according to an email from The Gridiron Club. From Politico:
"Former Gridiron Club president Helen Thomas, our first female member, died Saturday morning at her Washington apartment after a long illness," Gridiron's Carl P. Leubsdorf wrote in an email to members. "She would have been 93 next month."
Helen Thomas broke new ground for female journalists, and was a role model to generations of reporters. After forty years on the White House beat, Helen retired in 2010 following controversial remarks about Israel. She subsequently began writing columns for the Falls Church News-Press, which listed her as a contributor at the time of her death.
On Saturday morning, journalists reacted with deep sadness at the news:
"Helen Thomas made it possible for all of us who followed: woman pioneer journalist broke barriers died today wld have been 93 nxt month RIP" – NBC News' Andrea Mitchell

"A pioneering life in American journalism has ended: veteran White House correspondent Helen Thomas has died at age 92." – CBS News' Mark Knoller

"Rest in peace, Helen Thomas. First day I ever took the podium she came to encourage me. This was that day." – former White House Press Secretary Dana Perino

Such sad news about Helen Thomas. A real pioneer. RIP" – The Huffington Post's Sam Stein

"Helen Thomas died Saturday in D.C. Glass ceiling breaking journalist–1st female Gridiron member. Later controversial. Rest in Peace." – Chicago Sun-Times' Lynn Sweet

"RIP Helen Thomas, and thanks for your path-breaking contributions to journalism" – NBC's John Harwood

"Helen Thomas was the first female member & President of the White House Correspondents Association – which in 2010 threw her under the bus" – West Wing Report's Paul Brandis
It was a privilege to have worked with Helen, even for a brief time. She was a legend, but she never acted like one, she was always willing to talk to the two or three reporters who would try to soak in her knowledge and experience at any given moment. Her retirement was a shock, and although we've spoken on the phone occasionally, I never saw Helen again after that. Like many of my colleagues, I am deeply saddened to learn of her passing. To paraphrase a towering figure in journalism, "Thank you, Ms. Thomas."
Update: Former White House Press Secretary Robert Gibbs, reached via email, had this to say about Helen's passing:
Helen Thomas' relentless quest for answers on behalf of the American people spanned ten Presidents and countless White House Press Secretaries. She broke barriers for women covering the White House gaining, through her work, the same equal access men had in covering the world's most important leader. We should all be grateful for her dogged pursuit of both. There will never be another quite like Helen Thomas.
President Obama released the following statement regarding Helen Thomas (via email from The White House):
Statement by the President

Michelle and I were saddened to learn of the passing of Helen Thomas. Helen was a true pioneer, opening doors and breaking down barriers for generations of women in journalism. She covered every White House since President Kennedy's, and during that time she never failed to keep presidents – myself included – on their toes. What made Helen the "Dean of the White House Press Corps" was not just the length of her tenure, but her fierce belief that our democracy works best when we ask tough questions and hold our leaders to account. Our thoughts are with Helen's family, her friends, and the colleagues who respected her so deeply.
Here's an interview that I did with Helen in January of 2010, at Helen's Hearst office:
Have a tip we should know? tips@mediaite.com