Trump Bashes Dems in Fact-Challenged Tweetstorm: They Want Migrants to 'Infest Our Country'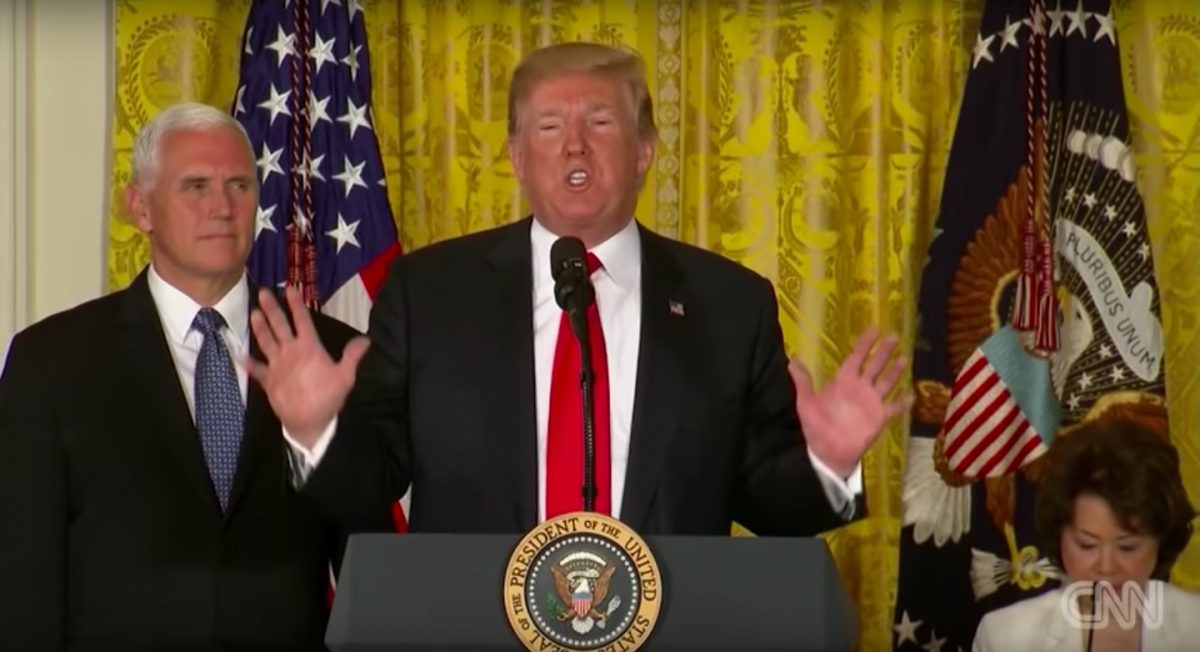 It's time for another President Donald Trump tweetstorm, ladies and gents.
When he took to Twitter Tuesday morning, Trump wrote about what he views to be the dangers of allowing illegal immigrants into the country, citing Germany's immigration policy as an example of a failed system:
Crime in Germany is up 10% plus (officials do not want to report these crimes) since migrants were accepted. Others countries are even worse. Be smart America!

— Donald J. Trump (@realDonaldTrump) June 19, 2018
And then simply saying:
If you don't have Borders, you don't have a Country!

— Donald J. Trump (@realDonaldTrump) June 19, 2018
Who's to blame for all of this? The Democrats, of course:
Democrats are the problem. They don't care about crime and want illegal immigrants, no matter how bad they may be, to pour into and infest our Country, like MS-13. They can't win on their terrible policies, so they view them as potential voters!

— Donald J. Trump (@realDonaldTrump) June 19, 2018
Oh, and also the parents bringing their children here on a dangerous trip across the border:
We must always arrest people coming into our Country illegally. Of the 12,000 children, 10,000 are being sent by their parents on a very dangerous trip, and only 2000 are with their parents, many of whom have tried to enter our Country illegally on numerous occasions.

— Donald J. Trump (@realDonaldTrump) June 19, 2018
#CHANGETHELAWS Now is the best opportunity ever for Congress to change the ridiculous and obsolete laws on immigration. Get it done, always keeping in mind that we must have strong border security.

— Donald J. Trump (@realDonaldTrump) June 19, 2018
Phew. All right, let's fact-check.
First of all, there is absolutely zero correlation between Germany's immigration policies and crime. In fact, Germany is receiving way fewer asylum requests from immigrants: the U.N. Refugee Agency reported a 73 percent decrease in individual asylum requests in Germany between 2016 and 2017, from 722,400 down to 198,300.
There is also no correlation between allowing immigrants into the U.S. and the rate of crime, as multiple studies show. Trump is fear-mongering, pure and simple.
Second, for the billionth time, Democrats have absolutely nothing to do with the policy of separating families at the border. The reason this is happening is a "zero tolerance" policy put into place by Attorney General Jeff Sessions to deter illegal immigration. The Trump administration is looking to use these displaced children as a bargaining chip to force Democrats to the table to agree to the Trump administration's immigration measures. Both sides of the aisle criticize this negotiating tactic, calling it cruel and inhumane.
Third, not a fact-check, but let's make a note of Trump's use of the word "infest" here. There is already criticism abounding that detained migrants are being treated like animals in cages; Trump's use of a word which likens them to locusts destroying crops is indicative of how the president may view these people in need.
[image via screengrab]
Have a tip we should know? tips@mediaite.com