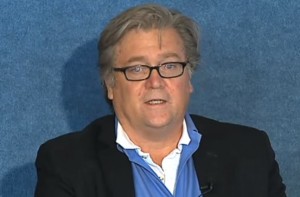 So in addition to charges of domestic abuse and allegations of anti-Semitism, it turns out that Donald Trump campaign CEO Steve Bannon was also once accused of sexual harassment.
BuzzFeed has uncovered a lawsuit from back when Bannon was the director at Biosphere 2––one of those bio-domes simulating what it would be like on the surface of Mars––and the facility's former director alleged sexual harassment from both Bannon and banker Mark Bowen.
Margret Augustine made the following allegations:
Both Bowen and Bannon were insulting to the plaintiff and other females employees of Biosphere 2, and in their presence, and against their will, made lewd remarks, told offensive off-color stories, made disparaging remarks about females, made sexually suggestive remarks, discussed females they had known in a lewd and derogatory fashion and in general acted with total indifference to the feelings of the plaintiff and other female employees of Biosphere 2.
She also claimed the two of them "made comments as women walked by about the size of women's breasts and body parts in lewd tones and language," and that there were other female employees of the biosphere that were similarly harassed.
Mother Jones recently reported that back then, during another lawsuit, "Bannon testified that he had called one of the plaintiffs a 'self-centered, deluded young woman' and a 'bimbo.'"
Augustine's harassment lawsuit was settled in the end, but that wasn't all she went to court about:
Augustine accused Bass [a financial backer] of having used his agents to dissociate her from the Biosphere project in breach of an earlier agreement. She also accused him of using Bannon and Bowen to slander her by saying she had stolen from the Biosphere gift shop and the project's construction fund. Soon after filing the complaint, she dropped a claim that Bannon and Bowen had invaded her privacy by deleting messages from her answering machine and opening her mail, saying that she would only press charges for incidents that occurred before April 1, 1994. The claims provoked a counter-suit from Space Biosphere Ventures, the company that controlled the project, accusing Augustine of having engaged in self-dealing and stealing from the company.
[image via screengrab]
— —
Follow Josh Feldman on Twitter: @feldmaniac
Have a tip we should know? tips@mediaite.com
Josh Feldman - Senior Editor