Trump: Clinton's a 'World-Class Liar,' Brian Williams' 'Career Was Destroyed for Saying Less'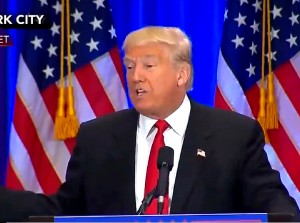 Donald Trump delivered a speech Wednesday morning entirely geared toward attacking Hillary Clinton, whom he accused of being a "world-class liar," on a par with MSNBC's Brian Williams, whose "career was destroyed for saying less" mendacious things than Clinton.
Trump said:
Hillary Clinton, and as you know, she, most people know, she is a world class liar, just look at her pathetic email server statements or her phony landing. Or her phony landing in Bosnia where she said she was under attack and the attack turned out to be young girls handing her flowers, a total and look, this was one of the beauts, a total and self-serving lie. Brian Williams' career was destroyed for saying less, just remember that. Yesterday she even tried to attack me and my many businesses. But here and this is the way it is, is the bottom line: I started off in Brooklyn, New York, not so long ago with a small loan and built a business that today is worth, well over $10 billion.
Trump's invocation of Clinton's "phony landing" was a reference to the time Clinton claimed during her 2008 presidential campaign that she arrived in Bosnia in 1996 "under sniper fire." She soon admitted that she "misspoke."
In 2015 Brian Williams was exposed to have embellished and invented details about his reporting from the Iraq War. Williams reported that he had been in a helicopter as it was being attacked by rocket-propelled grenades, an account later revealed to be false. He was suspended for six months without pay and returned to the network in Sept. 2015 as an anchor.
By way of rebutting Clinton's speech yesterday, cataloguing Trump's many business failures, Trump invoked his father's "small loan," a key part of the candidate's mythos. Though he did not mention the amount: $1 million in 1968 dollars, which, adjusted for inflation, would be $6.8 million in 2015 dollars.
[image via screengrab]
Have a tip we should know? tips@mediaite.com