Trump Complains in Forbes Interview About Forbes' Assessment of How Rich He Is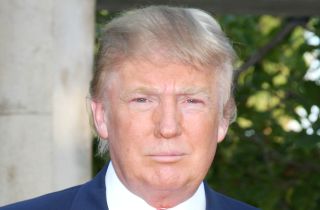 Donald Trump's big interview with Forbes Magazine largely consists of Trump complaining to Forbes about how they supposedly downplayed the size of his massive wealth.
Trump reported his net worth at $8.7 billion, but a Forbes analysis put it at about $4 billion. The analysis said that Trump's brand is worth $125 million, as opposed to the $3.3 billion that The Donald claimed, among other things.
Well, Forbes has now interviewed Trump, and basically the entire thing was a way for Trump to complain about their figure. "I'm worth much more than you have me down," he said. "I don't look good, to be honest. I mean, I look better if I'm worth $10 billion than if I'm worth $4 billion."
The Forbes piece recounts Trump's history with their infamous list of the 400 wealthiest people in America and how The Donald is incredibly sensitive about these numbers and how they reflect on him, even to the point of "fibbing."
And towards the end of the interview, Trump lashed out at Forbes in particularly Trump-ian fashion:
"I think you're trying to make me as poor as possible," says Trump, whose campaign filings claim that this year alone his worth has risen from $8.7 billion ($3.3 billion of that from brand goodwill) to more than $10 billion. Over the course of our interviews, he raises that to "much more than 10 billion" and says that another "respected magazine that's coming out" is going with $11.5 billion.

"You're gonna look bad," he adds. "And look, all I can say is FORBES is a bankrupt magazine, doesn't know what they're talking about. That's all I'm gonna say. 'Cause it's embarrassing to me."
Oh, and just to top it all off:
My overarching question for Trump is a simple one: Does he think FORBES uses a different methodology to value him than it uses for every other real estate titan on The Forbes 400? "Yes, I do," he responds. "Yes, I do."

Really? Why? "Because I'm famous, and they're not. Because when [Richard] LeFrak had dinner at Joe's Stone Crab, he calls me up and he says, 'Could you help me get a reservation?' "
You can read the full Forbes piece here.
[image via Helga Esteb/Shutterstock]
— —
Follow Josh Feldman on Twitter: @feldmaniac
Have a tip we should know? tips@mediaite.com
Josh Feldman - Senior Editor