Trump Declares NFL Getting Too Soft, Again Taps Into Anti-PC Sentiment Many Privately Share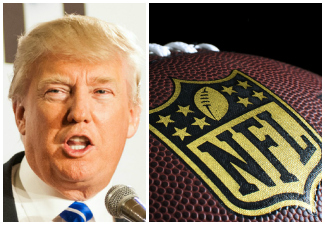 Donald Trump has done it again.
He's broached a subject seemingly out of nowhere that is now somehow getting traction (because almost every provocative opinion he offers does) as a debate item online and on cable news. Here's the GOP frontrunner in Reno yesterday on the current state of the NFL:
"It's a Sunday, who the hell wants to watch these crummy games? I just want to watch the end. By the way — okay, let me go there for a second. Let me end that story. So we gave them Iraq, we're stupid. We're stupid. I'll change things. Believe me, I'll change things. And again, we're going to be so respected. I don't want to use the word 'feared.' What I just said about a game — so I'm watching a game yesterday. What used to be considered a great tackle, a violent head-on [tackle], a violent — if that was done by Dick Butkus, they'd say he's the greatest player. If that were done by Lawrence Taylor — it was done by Lawrence Taylor and Dick Butkus and Ray Nitschke, right? Ray Nitschke — you used to see these tackles and it was incredible to watch, right?

"Now they tackle. 'Oh, head-on-head collision, 15 yards.' The whole game is all screwed up. You say, 'Wow, what a tackle.' Bing. Flag. Football has become soft. Football has become soft. Now, I'll be criticized for that. They'll say, 'Oh, isn't that terrible.' But football has become soft like our country has become soft. [Applause] It's true. It's true. The outcome of games has been changed by what used to be phenomenal, phenomenal stuff. Now these are rough guys, these are rough guys. These guys — what they're doing is incredible, but I looked at it and I watched yesterday in particular. So many flags, right? So many flags. And I could imagine a guy like Lawrence Taylor and Dick Butkus, who was really rough, and some of these guys sitting there watching. 'Wow, what a beautiful tackle.' 'Fifteen yards! That's — the game is over.'

"It's become weak and you know what? It's going to affect the NFL. I don't even watch it as much anymore. It's going to affect the NFL. I don't watch it. The referees, they want to all throw flags so their wives see them at home. 'Oh, there's my husband.' [Laughter] It's true. 'He just broke up — he just gave a 15-yard penalty on one of the most beautiful tackles made this year.' Right?
The easy, PC-reaction here is to condemn Trump for making such a remark. From there, the average (pious) sports columnist or cable news pundit will likely offer up the number of suicides committed by former NFL players and reel off stats around the number of concussions suffered this season … then will pivot to long-term effects of head injures affecting those who are retired from the game. And to it finish off, share the number of deaths (8) that have occurred on the high school level this year alone. And trust me, the usual suspects in sports and political media are doing just that. As a cherry on top for his supporters, Trump's perspective, of course, is basically the opposite of President Obama's, who told The New Republic, "I have to tell you if I had a son, I'd have to think long and hard before I let him play football."
We also heard how the Will Smith movie released last month, Concussion, would be a real PR problem for the NFL. On cue, it fell well short of expectations at the box office (finishing 7th its opening weekend before falling off the map). Those who watch the sport aren't heartless, of course … they care about player safety and are alarmed to see someone motionless on a field after a big hit. But — and this is a big but — are they concerned enough to even entertain changing channels when a game is on? Not on your life.
As a former player myself (Al Bundy moment: Wayne Valley High School, State Champs!) and someone who watches football in some capacity on an almost night basis — Monday, Thursday, Saturday, Sunday — throughout the college and pro season, this much I know: Trump's opinion is shared by almost all of those I'm friendly with who follow the sport and meet with to watch. Consensus among them: There are too many flags. It is harder to watch with all the starts and stops. The game is going overboard with unsportsmanlike conduct penalties on what look like clean, hard hits. Referees — rightly obligated to protect players and especially quarterbacks and receivers — are deciding games on their own too often.
Exhibit A was late Saturday night in Cincinnati, when two penalties on the same play and after gave the Pittsburgh Steelers 30 extra yards and an easy chip shot field goal to beat the patently-undisciplined Bengals. The first flag was completed justified (a head-hunting penalty on a Bengals linebacker against Steelers star receiver Antonio Brown). The second was more questionable considering it may not have been blatant enough to help end a team's season. This doesn't excuse the player involved (Cincinnati's perpetually-maturity-challenged Adam "Pacman" Jones) for taking a swing at a Pittsburgh coach (Joey Porter, who shouldn't have been on the field in the first place), but it goes back to Trump's point: Too many yellow hankies on the field and a softening of the game.
All of that said, here's the real reason why Trump — a former USFL team owner here in Jersey — is ultimately wrong: Fifty percent of the NFL's motivation for softening the game is to protect players from injury. The stats around concussions are real, and from a PR perspective alone is something NFL brass had to address. The other fifty percent is strictly business, because quarterbacks are the biggest stars in the sport and therefore need to be protected. Note: Watching teams with backup quarterbacks running the show invariably is ugly to watch. The product absolutely needs its quarterbacks (and its receivers and running backs) to stay upright. So the NFL's decision to soften in recent years is more about keeping the familiar brands of its brand on the field and therefore on television, where an astounding 31.2 million watched the aforementioned Bengals-Steelers Wild Card game on CBS on a Saturday night alone (despite a backup playing QB for the home team). For context, 8.5 million watched a Democratic presidential debate in November on the same network. Translation: The softening of the game Trump is complaining about hasn't had any effect on an interest that only appears to be growing.
It may not be the violent ballet it used to be, but given how big and fast players have become — especially on defense — the changes to protect players is very much necessary both due to player health and the bottom line.
Nevertheless, Trump shows once again, even when going off on a random tangent, that he has a good gauge on the temperature of many Americans is these days. Even on non-political matters such as football. Because at least from this perspective and feedback received here, what some call the wussification of the NFL is a very real emotion.
— —
Follow Joe Concha @JoeConchaTV
This is an opinion piece. The views expressed in this article are those of just the author.