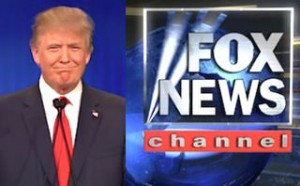 Okay, I'm going to go out on a limb here and say Donald Trump is going to attend the Republican debate Thursday. Consider that if he does make an announcement heralding his return, it would be his second in three days to utterly dominate the news cycle: a yuge media moment from the master of creating media moments.
We may have received a teaser of The Donald's intentions already in his decision to keep his scheduled appearance on Bill O'Reilly's show Wednesday night. If he's so angry at Fox News, why keep this much-touted appointment? Why give them the satisfaction?
Trump not wanting to debate on Fox, but he'll talk to me tonight on The Factor. Biggest story in the country, we'll have it w/ no spin -BO'R

— Bill O'Reilly (@oreillyfactor) January 27, 2016
On the one hand, Trump's decision to drop out seemed a tad impulsive. It sent his campaign scrambling to coordinate their response. He floated that he would "most likely" not attend, then shortly afterward, confirmed through his campaign manager that he was sitting the event out. His spokesperson, Katrina Pierson, played it cool Tuesday night, but seemed blindsided when the news broke in the middle of her appearance on CNN.
But the more you look at it, the more it resembles a carefully coordinated three-part ploy to dominate the news in the days leading up to the debate: On Monday, Trump re-enflamed his (one-sided) feud with Megyn Kelly. On Tuesday he sparred with her network, and laid down the law. On Wednesday night, he will enter the Thunderdome with Fox News totem Bill O'Reilly and quite possibly present his case for why he's coming back, and why it means he's won.
In fact, this resembles nothing so much as a narrative arc on Trump's old métier, the reality show: Tonight Trump fires Fox. Tune in tomorrow to see if they reconcile. In the meantime, here's a little teaser in the form of a Bill O'Reilly pow-wow. Is Trump really willing to kiss goodbye a couple hours in the limelight, or is he just playing hard-to-get? Which will viewers tune in to see?
This is a classic Trump tactic. Recall that he has threatened to sit out debates before, and each time he has attended. In this case Trump has left himself a perfectly sturdy walk-back path for when he decides to show up after all. Trump has never shown compunction about speaking his mind, and yet the decision to sit this debate out has been relayed entirely through intermediaries. His national campaign chairman Corey Lewandowski initially confirmed Trump's decision to sit out the debate, and his team released a statement shortly thereafter. But Trump himself has been uncharacteristically mum on the subject — no tweets and no sound bites that could muddy his face-saving return to the debate podium.
What else is he going to do Thursday night? With little more than 24 hours remaining for him and his camp to throw together his rival event — a benefit for veterans organizations — the details are scant, and it's looking increasingly dubious:
Trump announces details of his veterans event/counter debate programming pic.twitter.com/5YigiD9Gx6

— Colin Campbell (@BKcolin) January 27, 2016
Besides, his pitch to make it all about the returning soldiers has already begun to backfire, with various pundits accusing Trump of bandying veterans about as a playing card:
Trump using wounded vets for campaign stunt is disgusting.If Trump wanted to help vets he could quietly write checks to groups helping them.

— Bill Kristol (@BillKristol) January 27, 2016
In its most crudely reductive form, Trump's proposal to viewers is: "If you support the veterans, you should tune in to my show; if not, feel free to watch the Fox debates with the rest of the sheeple."
His hasty plan to hold a rival event is also premised on the notion that he will be able to poach viewers away from Fox News. But there's no guarantee that a solo Trump show is going to lure a significant number of viewers away from the debate, especially one that promises a wealth of dramatic snipes — including, more than likely, a few lobbed at the absent Trump. Make no mistake. A debate without Trump is still, in some respects, going to be a debate about Trump. Trump knows it; viewers know it.
By not attending, Trump essentially invites all the leading GOP candidates to come together for a couple hours and throw shade "behind his back" in front of millions of viewers.
Each candidate in his turn will seize the opportunity to distinguish himself from The Donald. Candidates who have borne the brunt of Trump's abuse — namely Bush, Paul, and, lately, Cruz — are unlikely to pass up the opportunity to get in a few good jabs, and without Trump to cut them off, they might even reach the end of their sentences. (The undercard debates provide a useful point of reference here: Trump, the perennial frontrunner, has never been at the GOPeeWee event to defend himself, yet his policies, temperament, and latest gaffes have almost always reared their head in his absence.)
Trump is unlikely to countenance the notion of missing his own well-attended roast. But there's an even better reason for Trump to attend. Should he change his mind, he gets to enter the debate as not merely the unquestioned leader in the polls, but as the candidate who magnanimously returned to the fold, and in doing so, legitimized the whole enterprise. And there's a way for Trump to come back that lets everyone save face.
Trump did not quit the debate because of Megyn Kelly. He quit because Fox News issued a series of smart-aleck press releases, jeering Trump in increasingly merciless fashion.
It was the childishly written & taunting PR statement by Fox that made me not do the debate, more so than lightweight reporter, @megynkelly.

— Donald J. Trump (@realDonaldTrump) January 27, 2016
The network accused Trump of "showing fear" before Kelly. They told him that the Ayatollah and Putin "intended to treat [him] unfairly."  Megyn Kelly may be a "third-rate reporter" in Trump's estimation, who asked a (not very tough, come now) question. But it was the network who diminished and mocked the GOP frontrunner for everyone to see. And it's the network who must make it right, which it is absolutely in their interests to do.
Fox doesn't have to bar Kelly from the event (a move that was never on the table). They just have to apologize for the intemperate statements they released. Everybody wins. Trump gets to brag that he faced the network down, and won. And any quantity of crow Roger Ailes has to eat will be more than balanced out by the blockbuster ratings the event is sure to get. Trump gets to brag about that too, of course. Even if Kelly is at the moderators' table, Trump's triumph is that he faced down the network and forced it to apologize for the "wise-guy press releases," as Trump described them.
Trump has routinely boasted that he has won every Republican debate so far. With Thursday's debate, he can add yet another feather to his overstuffed cap. He won before it even began.
This is an opinion piece. The views expressed in this article are those of just the author.