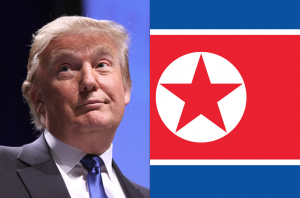 As if the 2016 cycle hadn't already jumped the shark several times over, this one might just do the trick.
In a bizarre move that is certainly unprecedented, an editorial from North Korean state media outlet DPRK Today has endorsed Donald J. Trump for the American presidency.
Let that one sink in a moment.
The editorial praises Trump's comments earlier this month when he said that he would have "no problem" in meeting with North Korea's supreme leader, Kim Jong-un. "I would speak to him, I would have no problem speaking to him… At the same time I would put a lot of pressure on China because economically we have tremendous power over China," Trump said in an interview with Reuters.
Although the GOP presumptive nominee later clarified that he wouldn't visit the hermit kingdom — opting instead for "talking" with the North Korean leader — his unusual commentary was apparently enough to earn the support from DPRK Today. The editorial praised the real estate titan as a, "wise politician" and "far-sighted presidential candidate."
One of the biggest areas of potential camaraderie between Trump and the North Korean people comes in the form of the candidate's largely isolationist view of the global community. As the New York Times wrote following an interview with Trump, "[H]e said he would be willing to withdraw United States forces from both Japan and South Korea if they did not substantially increase their contributions to the costs of housing and feeding those troops." Trump also indicated that he would consider allowing those countries to develop their own nuclear stockpiles rather than remain dependent on American protection against North Korea in that battle.
And as North Korean scholar Han Yong Mook told NK News, this is what may help fuel the decision of the DPRK Today editorial to offer its support for the man. "Trump said 'he will not get involved in the war between the South and the North,' isn't this fortunate from North Koreans' perspective?" said Mook. It would be an approach to foreign policy that would likely be welcomed by the Kim Jong-un regime, whose phraseology of "Yankee Go Home" is built around fighting against the Americans' interventionism.
"Who knew that the slogan 'Yankee Go Home' would come true like this? The day when the 'Yankee Go Home' slogan becomes real would be the day of Korean Unification," continued Mook.
While this does not serve as an official endorsement from the state by any means, it does indicate a willingness on the part of some in the hermit kingdom to weigh in on Beltway politics. "[I]t is certainly Pyongyang flying a kite, or testing the waters," said Aidan Foster-Carter of the University of Leeds.
—
[h/t NK News]
[image via Wikipedia Commons]
Have a tip we should know? tips@mediaite.com