Trump Mocked For Claiming You Need Voter ID to Buy Cereal: He's a 'Cereal Offender'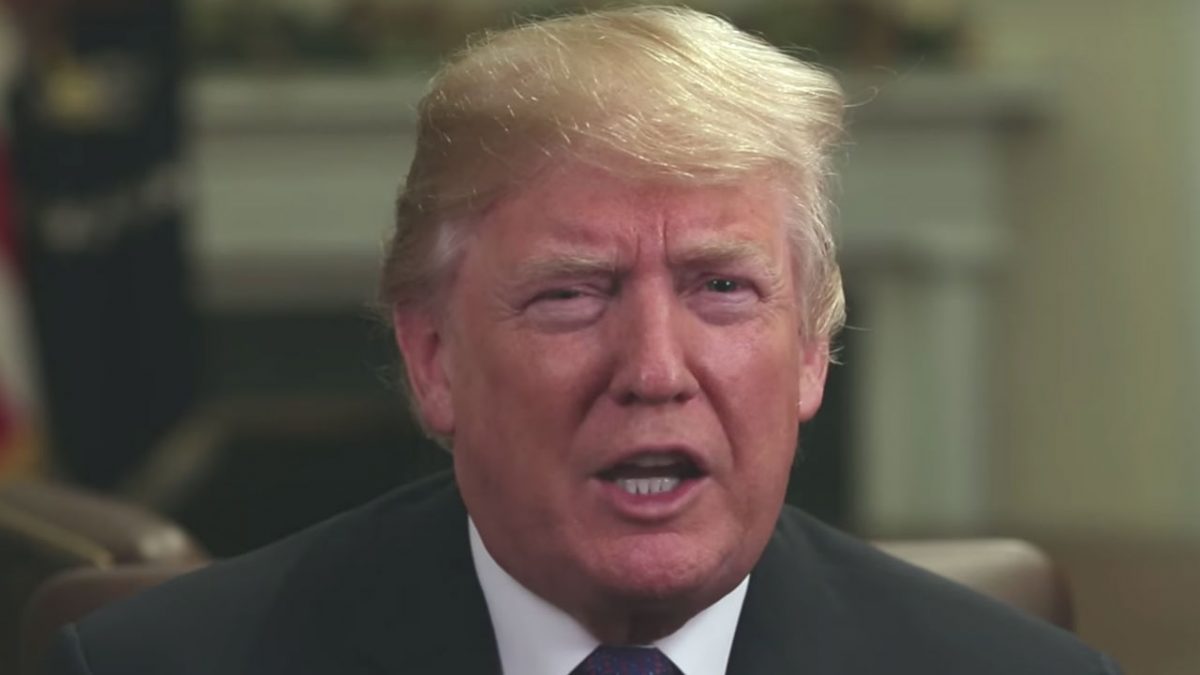 President Donald Trump talked about voter fraud in an interview today and made the following comments:
"The Republicans don't win and that's because of potentially illegal votes," Trump complained. "When people get in line that have absolutely no right to vote and they go around in circles. Sometimes they go to their car, put on a different hat, put on a different shirt, come in and vote again. Nobody takes anything. It's really a disgrace what's going on."

"If you buy a box of cereal — you have a voter ID," Trump continued. "They try to shame everybody by calling them racist, or calling them something, anything they can think of, when you say you want voter ID. But voter ID is a very important thing."
The President made those remarks in an interview with the Daily Caller as he sounded off on the Florida recount and said Brenda Snipes needs to go.
Deleting this tweet because it did not include the obvious addition that the claim is generally false. Apologies, I simply found the phrasing humorous. pic.twitter.com/9Dx33bVl3A

— Saagar Enjeti (@esaagar) November 14, 2018
Trump has falsely claimed before that you need photo ID to buy groceries, and he received a lot of mockery today for the comment about cereal:
"When you buy a box of cereal — you have a Voter ID"

I'm howling.

— Chris Hayes (@chrislhayes) November 14, 2018
It's why I can't buy my favorite cereal anymore. When I show the cashier my ID, she says "Trix are for kids" and kicks me out of the store. https://t.co/kXRnutuiGH

— Ben Jacobs (@Bencjacobs) November 14, 2018
I'm just going to go ahead and guess that Trump has never bought a box of cereal then. https://t.co/lB6PuU4MTE

— Steven Dennis (@StevenTDennis) November 14, 2018
Little-known secret: the grape in Grape Nuts is wine.

— Jennifer Epstein (@jeneps) November 14, 2018
WHAT KIND OF CEREAL IS HE BUYING https://t.co/S9G3JTwt92

— Jessica Huseman (@JessicaHuseman) November 14, 2018
Every time @realDonaldTrump says something like, "If you buy a box of cereal — you have a voter ID," I'm reminded of this: pic.twitter.com/i4J9daeWpw

— Lis Smith (@Lis_Smith) November 14, 2018
just to clarify, i do think you should have id to buy peanut butter puffs. that cereal is basically a controlled substance

— Tacchino è buono ? (@AdamSerwer) November 14, 2018
Where does he buy cereal? https://t.co/OkGorMNI5e

— Josh Dawsey (@jdawsey1) November 14, 2018
out of cereal and I can't remember where I put my voter id, my life is so fucked

— Tom Tomorrow (@tomtomorrow) November 14, 2018
(cont.)
1) Trump also claims that "If you buy a box of cereal — you have a voter ID."
2) Which means for many years, WWR has been a…serial lawbreaker #FunWithHomophones

— West Wing Reports (@WestWingReport) November 14, 2018
Honey Bunches of Votes

— Nick Baumann (@NickBaumann) November 14, 2018
Getting some cereal. pic.twitter.com/TXuUAn5Cjg

— Jonah Goldberg (@JonahNRO) November 14, 2018
This explains so much pic.twitter.com/3l6UrypLYY

— James Poniewozik (@poniewozik) November 14, 2018
The only quote of interest in this interview is that Trump thinks you need voter id to buy cereal. The rest is just rambling conspiracies about voter fraud.https://t.co/msq30ASH60

— andrew kaczynski (@KFILE) November 14, 2018
Impossible to deny now that Trump is a cereal offender

— Seth Mandel (@SethAMandel) November 14, 2018
Wherever he gets it — that is some powerful cereal https://t.co/Gt1WSUTbxx

— Bret Baier (@BretBaier) November 14, 2018
Have a tip we should know? tips@mediaite.com
Josh Feldman - Senior Editor