Trump Reportedly Invoked WWII During Tense Meetings With Japanese PM: 'I Remember Pearl Harbor'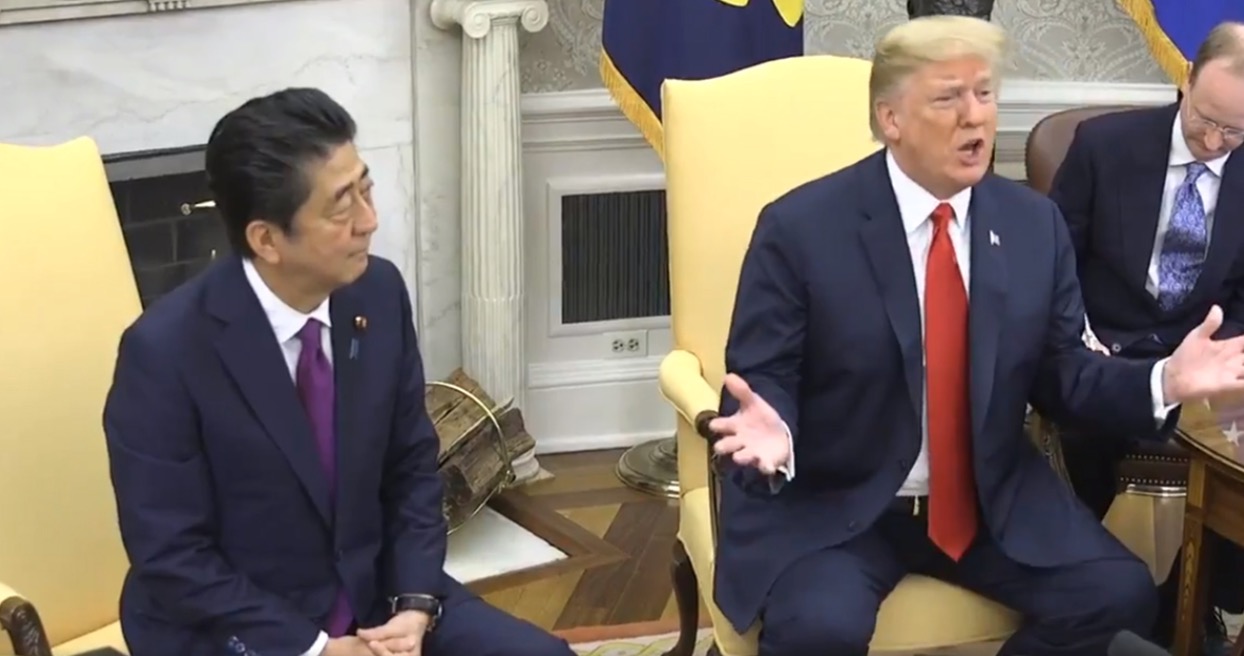 A new report indicates that Donald Trump's relationship with Prime Minister Shinzo Abe has grown increasingly bitter over the last few months, with one reason apparently being that the president brings up old hostilities between America and Japan during their conversations.
Even though Trump seems to have a better relationship with Abe than he does with most other world leaders, the Washington Post reports that Japanese officials have grown weary with Trump's approach to North Korea and disputes with them on international economics. During one meeting with Abe, the prime minister was reportedly "exasperated" by Trump's railing against U.S-Japanese trade disputes — during which, the president also brought up the 1941 surprise attack that brought America into World War II.
"I remember Pearl Harbor," said Trump.
The article goes on to say report that Abe tries to be delicate when speaking with Trump so that he can can contradict the president without insulting his ego. Nonetheless, the Post cited officials in Tokyo who told them Trump frequently ignores economic data and advice on North Korea during these meetings.
From the report:
During heated exchanges, Japanese officials say Abe waits for Trump to make his point, and finds an opening later on in the conversation to rebut him. "He understands if he categorically denies what the president says, it might hurt the president's pride," one Japanese diplomat said.

Another diplomat said that he could not explain Trump's Pearl Harbor reference but added that the president relishes historical references and frequently brings up Japan's "samurai past."
Between Trump's summit with Kim Jong Un in Singapore and the impact of U.S. tariffs on the Japanese economy, officials have reportedly started to lose patience with Trump, which has resulted in a number of countermeasures. Japanese officials met with their North Korean counterparts this summer in Vietnam without informing U.S. intelligence ahead of time, and Abe's cabinet has warned of retaliation if economic ties with the U.S. continue to worsen.
[Image via screengrab]
— —
>> Follow Ken Meyer (@KenMeyer91) on Twitter
Have a tip we should know? tips@mediaite.com